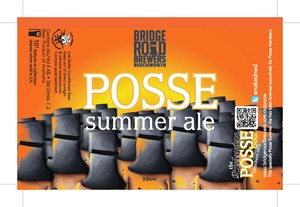 Bridge Road has released their Posse Summer Ale. Brewer Jay Howlett was given a carte blanche to create whatever he wanted under the brief of the beer being suited to the summer season. Settling on a style that originated in Canada, Howlett created a Steam Beer – which is a style that sees a Lager fermented at Ale fermentation temperatures, also known as Canada Common. The Beechworth team a pretty sure it is going to challenge drinker's perceptions of Lager, from the deep orangey-amber colour to the burst of hop aroma.
In further news, the latest collaboration between Bridge Road and Nøgne Ø is set to hit shelves soon. Back in May Kjetil Jikiun brewed a beer with the guys while he was visiting Australia – roughly 4000 litres of a so-called Belgian Strongish Quadruple.
Then Jikiun had the idea of aging it by pumping it into local red wine barrels and shipping it (non refrigerated) to Norway. Where is has since arrived and is to be bottled and kegged at Nøgne Ø.
In the meantime, the team at Nøgne Ø, brewed a beer to the same recipe, packed it into some Scottish whisky casks and shipped it (again non refrigerated) to Oz to be bottled and kegged at Beechworth. What a marathon.
So keep an eye out for it, as it is still en route to the brewery, as it's sure to be an interesting drop to say the least.