20th April 2011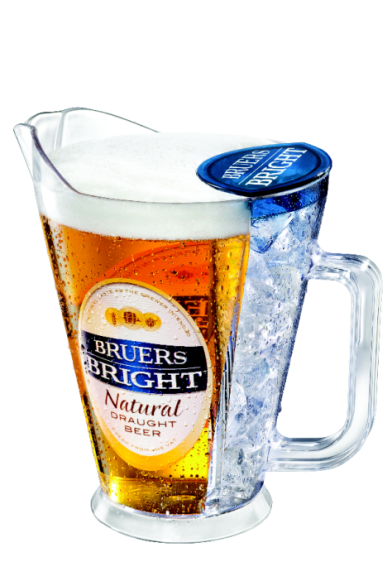 Pacific Beverages has pioneered a new offering for Aussie consumers on-tap, unveiling their new draught beer, Bruers Bright. Available on tap in over 200 premises nationally, Bruers Bright is filled straight from the brewery vats without any heat treatment, allowing the beer to retain its brewery fresh taste.
Peter McLoughlin, Chief Executive Officer for Pacific Beverages says, "Bright beer is supplied exactly as a brewer would intend. Because of our sterile flitration, we don't have to pasteurise or heat treat our beer, so we are able to fill directly from the bright beer tanks into the kegs and lock in that special taste for the consumer."
Bruers Bright has been developed in consultation with Pacific Beverages' key customers at certain pubs and hotels around Australia and successfully trialled at a number of venues since November 2010.
Wyong Rugby League Club on the NSW Central Coast was the first venue in Australia to stock the beer and was part of the development of Bruers Bright. Ben Coghlan Group Food and Beverage Manager from the Wyong Rugby League Club Group said, "The taste of Bruers has been very popular with our customers to date. I have been surprised by some of our older patrons who have changed their beer of choice to Bruers, that shift says to me that they genuinely like the taste."
"There has been quite a lot of demand for Bruers because of interest in the local brewery and genuine interest in the new product. It has been great for us and our venue as it encourages people to come into their local and have the choice of a genuine alternative mainstream beer."
"We asked them what they thought was missing in the market and how we could help fill the void. They wanted a draught beer that was in keeping with the Australian style of beer but was fresh and offered a point of difference for the consumer. Armed with that feedback, we asked our expert brewers to do what they do best and the result was Bruers Bright. Following the success of the initial trial we are moving into phase two of the rollout plan. Now more Aussies can experience beer as the brewers intended, the Bright Way", said McLoughlin.
Bruers Bright is a highly drinkable Australian style draught lager with a clean fresh aroma, a fruity individualistic palate and a soft bitter aftertaste, delivering the ultimate fresh beer experience.