21st April 2011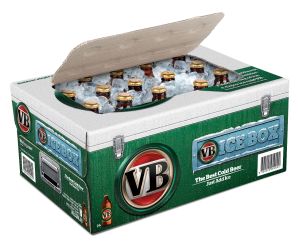 According to VB "the best cold beer just got a whole lot colder", with the launch of the VB Ice Box. An Australian-first, the limited edition carton is 100% waterproof, specially designed to transform from carton to cooler with the addition of ice.
The 24-pack carton features a perforated lid which, when opened, gives easy access to the loose packed bottles like a traditional cooler. Just add ice to create the ultimate disposable ice box, perfect for keeping your beers cold when you're out and about.
The packaging has been developed by VB in association with manufacturer Visy. Made from a newly developed water-proof paper grade, comprising a combination of paper and laminated PET, the webbed carton prevents leaks through its corners and is recyclable under normal recycling processes.
"Every Aussie bloke has faced the challenge of keeping his beer cold at a party," said Craig MacLean, Group Marketing Manager for VB. "Squeezing his warm beers into the cooler, fighting his mates for that last bit of icy cold space."
"The VB Ice Box solves this problem. All you have to do is turn-up, tear open the lid and pour ice over your stubbies. VB is the best cold beer – now there's no excuse not to drink it at its refreshing best."
Available throughout Easter at Victorian Woolworths Liquor, BWS, Safeway Liquor & Dan Murphy's stores, the VB Ice Box is the perfect camping, picnic or BBQ partner. Just add ice and you've got yourself the ultimate party accessory.
"Victorians will have a chance to get their hands on the VB Ice Box this weekend. We're initially launching it as a limited edition for Easter, giving our loyal, local drinkers the chance to try it first. We're hoping to launch it nationally later in the year," concluded MacLean.