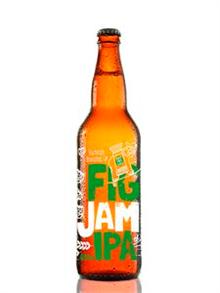 How does a limited edition carton of beer with a surprise gift and beer-y baked goods sound?
Well, those crazy kids at Burleigh Brewing have been at it again with their Bit on the Side beer series and are proud to present their Figjam IPA.
An intriguing proposition to be sure and those lucky enough to be able to get themselves cellar door-side at 4pm October 4 will have the honour of being the first to try it fresh off the bottling line. But there are only 20 cartons available so do whatever you can – the Burleigh team suggests: begging the boss for the arvo off, swapping
shifts, or coming down with the 'flu'…
Each 'Burleigh Brewer's Dozen' will include a bonus
13th bottle, signed by our Brewmaster, Brennan Fielding, along with a surprise gift. (And you get some of those aforementioned beer-y baked goodies the team have been whipping up while you're waiting in line).
This latest addition to the Burleigh Bit on the Side department comes after many requests for the brand to produce an IPA, that old English style that is an unequivocal craft brewing favourite.
The 7% ABV, 70 IBU brew uses a blend of specialty malts along with five different American hop varities.
According to Peta Fielding, Burleigh CEO, the company has been planning their first IPA for a while now. "We've been so busy keeping up with demand for our regular brews, that tank space
has been at a premium," she says. "But we recently increased our production capacity and so
the first thing to go in the new tanks was the Figjam IPA"
Brewmaster, Brennan Fielding, describes his debut IPA as boasting, "wonderful citrus and mango
aromas, with those hop driven characteristics flowing through to a clean, robust
flavour."
Unsurprisingly, Peta Fielding says it is a perfect match for figs… with a cheese platter on the side perhaps?
Burleigh Brewing's 'Bit on the Side Department'
creates limited release brews in
collectible, screen-printed, 650ml bottles.
Previous beers in the range include Fanny Gertrude's Bickie Beer, a beer based
on Anzac bickies, and the world-beating, Black Giraffe – a black coffee lager
which earned Gold Medals at the World Beer Championship for both the 2010 and
2012 releases.
For everyone else who can't make it to the launch, Figjam IPA is available by the bottle (collectible, 650ml screen-printed
bottle $11) and by the carton (12 x 650ml bottles, $110) and it strictly limited.
A venue and outlet listing will be available at www.burleighbrewing.com.