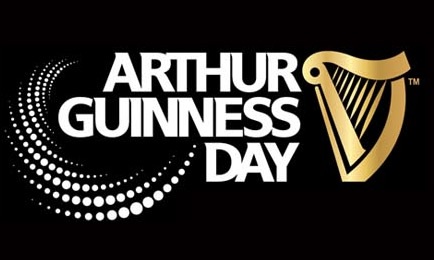 THE BLOWER'S DAUGHTER BY ANGUS STONE CROWNED GUINNESS® ARTHUR'S DAY ANTHEM
Guinness fans can head into pubs on Arthur's Day to hear Stone's winning Arthur's Day Anthem for the first time Media release, embargoed until 00:01, Friday 28 September:It's official, Angus Stone and Guinness make sweet music, and today revealed that The Blower's Daughter is the winning Arthur's Day Anthem.
Now in its fourth year, Arthur's Day (Friday 28 September) is the global music event that marks the remarkable legacy of Arthur Guinness, who in 1759 signed a 9000-year lease on the St James' Gate Brewery in Dublin for an annual rent of £45. To celebrate, Guinness enthusiasts are encouraged to head to their local pubs today, where they can hear the newly crowned Arthur's Day Anthem for the first time at 17:59 and raise a pint of the black stuff to the stout's founding father. Stone paid homage to Arthur Guinness by recreating two classic Irish tracks – The Blower's Daughter by Damien Rice and Dreams by The Cranberries. Only accessible on the Facebook page, Guinness fans flocked toFacebookto hear samples of both songs and cast their winning vote. Whilst Dreams proved popular with Guinness fans, it was The Blower's Daughter – Angus' personal favourite – that truly blew them away, winning over fans and an expert judging panel* to become the Arthur's Day Anthem. Available for download on iTunes as a single, proceeds from The Blower's Daughter will go to Angus' chosen charity, SurfAid International.
After this experience, Angus has become inspired to do more covers as the experience profoundly affected his songwriting. Currently playing sold out shows around the world, here's what Stone had to say about the collaboration: "With covers, you really have to give the songs space and let them breathe and I was surprised with how much these songs spoke to me."
"The Blower's Daughter is my favourite of the two and I'm really proud of what we did with it. I'm also good mates with Damien so it was really cool to cover one of his songs and I'm looking forward to hearing what he thinks of it."
On Friday September 28, Australians are encouraged to visit their local pub to raise a pint to Arthur Guinness at 17:59, and listen to the Australian Arthur's Day Anthem in full.
Expert judging panel consisted of:
Mark Potson (Chairman & Senior VP Marketing, Australasia at EMI Music Australia), Tom Lang (Owner/Director, IMC Agency) and Damian Trotter (Managing Director of Sony/ATV Music Publishing).
About Guinness & Arthur's Day
The Arthur's Day celebration was set up in 2009 to coincide with the 250th anniversary of the signing of the original lease at St. James's Gate, Dublin – the home of Guinness®. Today, people all around the world honour the Guinness heritage on Arthur's Day by sharing a pint of Guinness and enjoying a music-themed event. This year it is estimated that more than 1.5 million Guinness fans and music lovers will participate in Arthur's Day globally at a series of music events featuring acts ranging from the highest profile international artists, to emerging
local talent. Around the world, more than 30 artists will be performing at Arthur's Day celebrations, offering crowds of Guinness fans a remarkable experience. Artists include Ellie Goulding, Mika, Professor Green, Fatboy Slim, Texas, Amy Macdonald, Tinie Tempah and Example.
About Angus Stone
Angus Stone's solo offering Broken Brights debuted at #2 on the ARIA Album Chart and #1 on iTunes following its July 2012 release. Sold out shows have accompanied critical acclaim and media support. The Independent UK wrote, "Angus Stone delivers what may be his masterpiece." While Mojo Magazine, awarded Broken Brights 4 Stars &ldquldquo;…reflective, intimate, nostalgic and yet full of tomorrow's promise. Packed with exquisite tunes…" The record deftly shifts between genres, from "desert rock" (Uncut) to "mythic and psychedelic" (Triple J Magazine) and "prairie dog blues" (Rolling Stone). Stone and his new band are touring Australia this November. Broken Brights is out now.
About SurfAid International
SurfAid is a non-profit humanitarian organisation whose aim is to improve the health, wellbeing and self-reliance of people living in isolated regions connected through surfing. SurfAid views its mission to improve health and wellbeing as an invaluable investment in the future of the Metawai and Nias people. SurfAid's key stakeholders include communities and individuals, regional government and partner non-governmental organisations. SurfAid's programs represent an integrated approach to improving health and wellbeing and seek lasting improvement through cost-effective, high impact interventions.