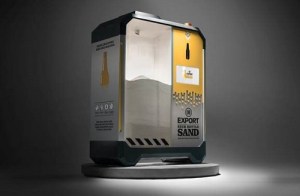 In a reversal of the glass bottle production process, New Zealand's DB Export has announced an audacious plan to recycle empty bottles of their beer back into sand.
The brewery is turning glass bottles that can't be recycled into an artificial sand suitable for consumer and industrial purposes, and is aiming to make one hundred tonnes of the sand substitute – equivalent to more than half a million bottles.
The resulting product, known as DB Export Beer Bottle Sand is designed to lessen some of the impacts inflicted on NZ beaches by sand mining and dredging  by providing an alternative to non-renewable beach sand.
Beach-dredged sand is a major component in the construction of roads, pathways, commercial and residential buildings, at-home DIY projects, and (of course) golf bunkers.  In the way of consumables and infrastructure, the average person uses 200kg of sand each year.
However, like many natural resources, beach sand is non-renewable and dredging causes a myriad of environmental problems including the destruction of natural beaches and their ecosystems (i.e. dunes and wetlands), increased coastal erosion, damage to sea life habitats, and reduced protection from tsunamis and storms.
Adding to these environmental woes is the fact that each year in New Zealand, 27% of waste consumer glass is not recycled and ends up in landfill, due to soiling or incorrect disposal; DB Export is using this glass to create their sand substitute.
Specially-created DB Export Beer Bottles Sand Machines will visit major NZ cities so people can crush their beer bottles and see the sand that is created for themselves.
"Our beautiful beaches are being dredged for its precious sand, which is used in many products and almost every construction project," says Sean O'Donnell, DB Breweries' Marketing Director. "DB Export Beer Bottle Sand is a simple initiative that we believe will have a big impact.
"We can't solve the problem alone but we knew we could do more to help. Our ambition is to help drive more recycling whilst looking out for the beaches which are an integral part of our Kiwi DNA."
The Beer Bottle Sand project is the second sustainability-focused plan that the company has enacted; in 2015, DB Export created the world's first commercially available biofuel made from the waste product of the brewing process, known as DB Export Brewtroleum.