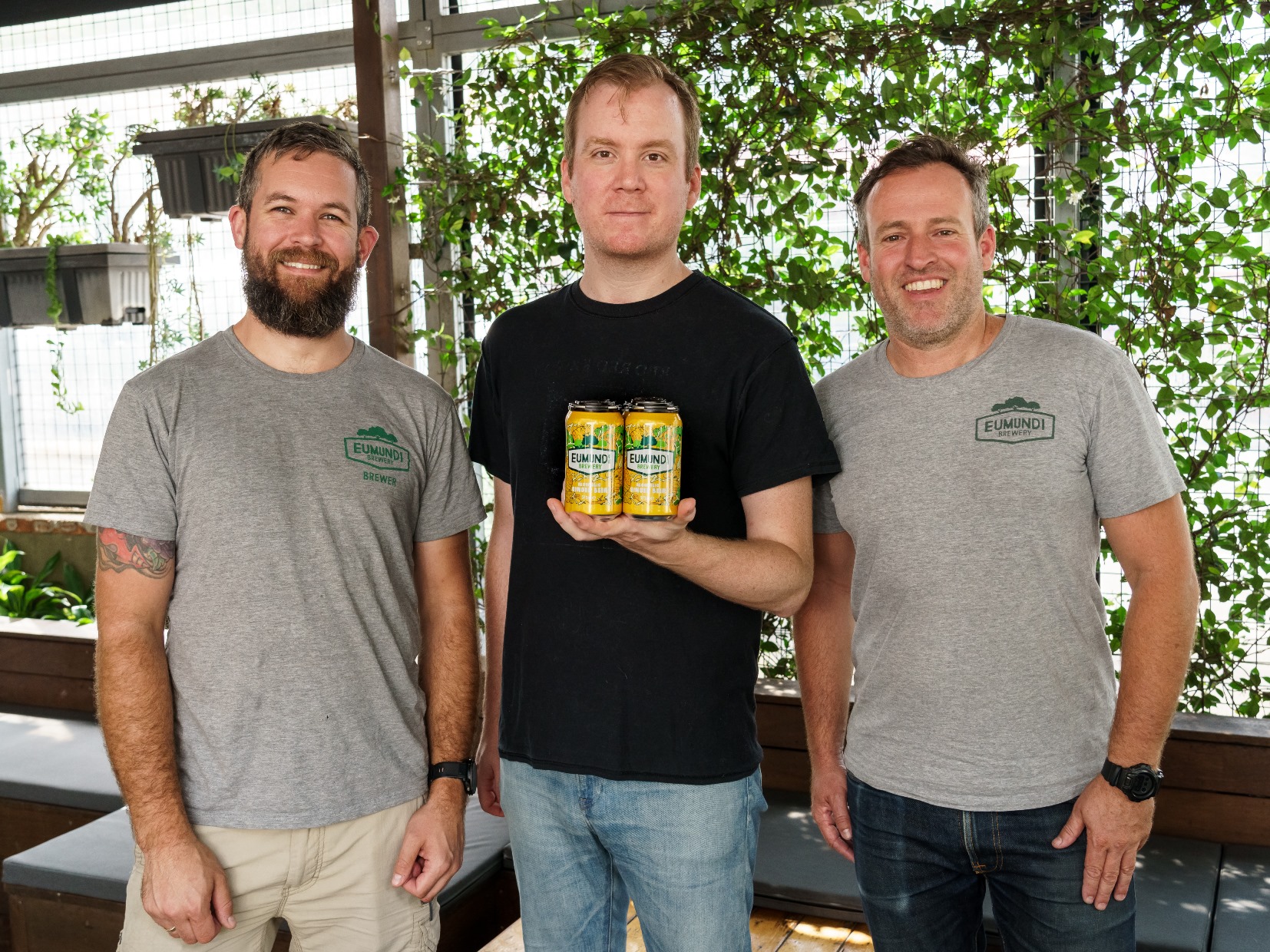 With their previously tap-only alcoholic ginger beer now out in 375ml cans it would be hard for Eumundi Brewery to offer a more purpose-built beverage for flying the flag of the ginger growing region in Queensland's Sunshine Coast. But by once again commissioning artist Sam McKenzie for its can art the brewery, that operates out of the town's Imperial Hotel, has ensured there's even more of a local flavour to be enjoyed – both inside and outside the tin.
Sam (pictured in the middle with Eumundi brewers Allan Tilden, left, and Chris Sheehan) was born and bred in the creative hub that is the village of Eumundi, earned his childhood pocket money drawing at Eumundi Markets, and the now 35-year-old has gone on to develop a reputation as a successful illustrator and freelance graphic artist.
"I have been drawing ever since I could, drawing throughout school when I was supposed to be doing other stuff," Sam said. "Eventually it got to a point where I couldn't picture myself doing anything else. That's a kind of blindly stubborn determination, I suppose."
His style? "It's informed by old cartoons and comics and the like, with an emphasis on strong ink-work and bold colours. I like to try and make dynamic work, with a sense of personality, and I like messing around with composition and more design-like elements too."
As well as the just released Eumundi Brewery Alcoholic Ginger Beer's packaging design, Sam created the illustrations still used on the background of their Refreshing Lager and Pale Ale cans.
"I was thrilled to get the opportunity to design the artwork for the iconic beer that bears the name of my family home town."
He's since created a mural within the working brewery; has continued to work on new release designs; and feels like he can contribute something to the town in working on the new brew designs.
"It's really cool to see that the Eumundi beers getting out there throughout Queensland, and beyond," Sam added. "The launch of the ginger beer really flies the Eumundi flag, celebrating the local region's reputation as a ginger-growing hub. It's great to share that Eumundi goodness with beer lovers – and those who appreciate fine art on a can!"
Chris said: "Everything about the Imperial Hotel, the home of Eumundi Brewery, honours art and local artists, and creativity runs through the veins of the village of Eumundi.
"We want that creativity to shine in all the designs aligned with the Eumundi Brewery, and Sam absolutely gets it right every time – as he has again with the new Eumundi Brewery Alcoholic Ginger Beer."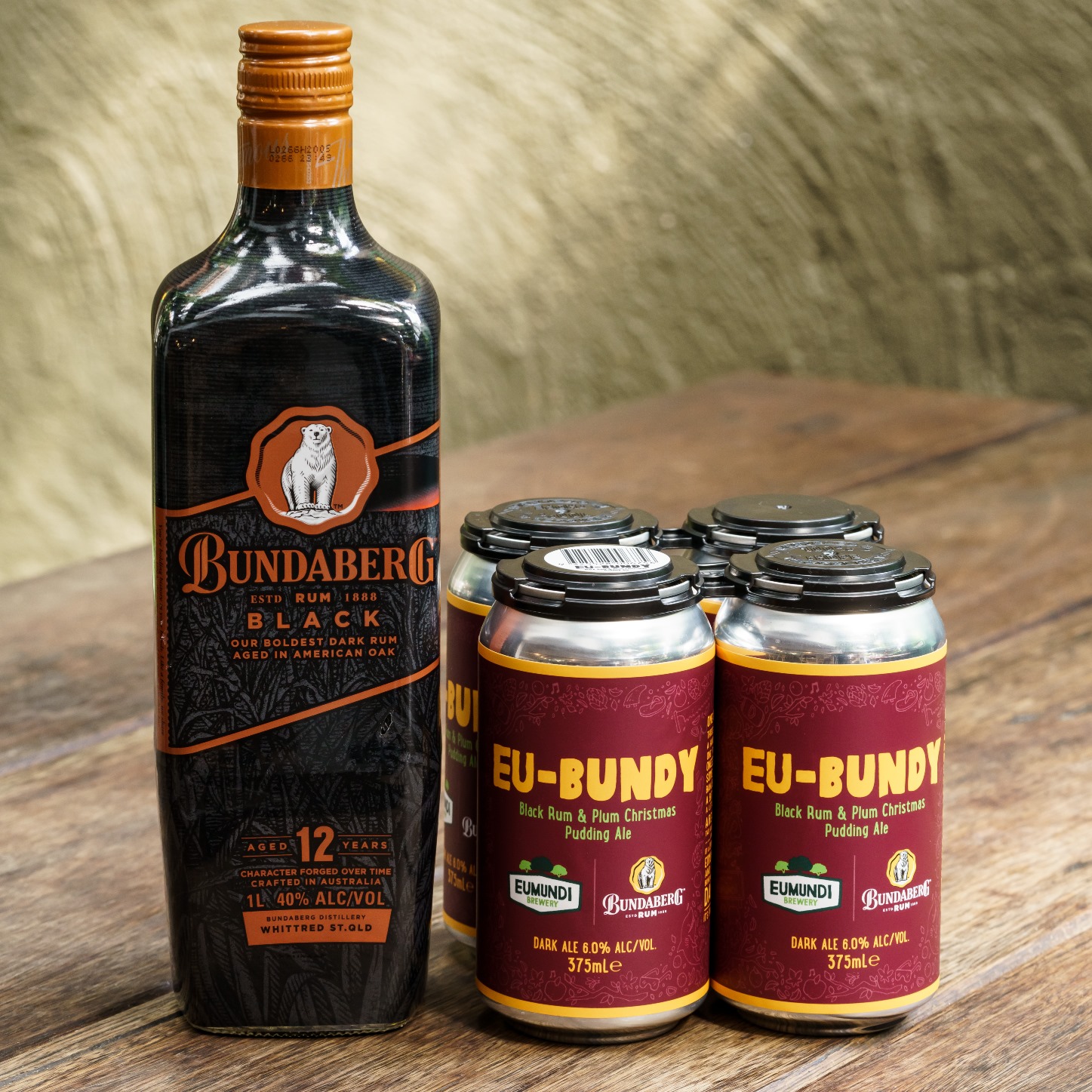 Keeping with the beers brewed in a quintessentially Queensland vein, Eumundi has also just released EU-BUNDY Black Rum and Plum Pudding Ale in collaboration with Bundaberg Rum Distillery.
It follows last year's EU-BUNDY IPA and Chris said the expectation is for it to equal that release's popularity.
"When we released the EU-BUNDY IPA last year, we were blown away by the take up, with people clambering to get hold of it as soon as it went on sale.
"We're pretty sure this festive drop will be equally loved – and is bound to be popular with those looking for a gift for a beer-loving loved-one, or a special brew to enjoy themselves over the Christmas season.
"It's a seductive dark ale with all your favourite festive flavours. Drinking sweet and rich, with notes of caramel, raisins, fruit and spice, and Blood Plums, all rounded out with Bundaberg Black 12-year-old rum that has been carefully aged on American Oak."