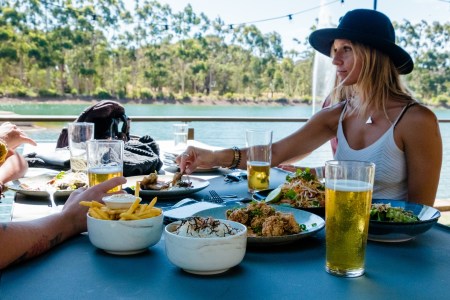 As border restrictions finally come down while the economic aftershocks of COVID-19 still remain, there's never been a better time to visit regional Australia to inject much-needed cash back into these economies. One such place is the South West region of Western Australia – a beer lover's oasis among a sea of wine, as told here by local Jono Outred.
---
WA's South West is home to over 15 independent breweries, as well as countless venues and retailers that choose to support local brewers who make the region a must visit for craft drinkers.
From Bunbury (1.5 hours South of Perth) to Albany (4.5 hours from Perth), WA's vast Southern region lays claim to one of the oldest breweries in the state, and a few of the freshest faces in WA beer as well.
In the past few years, the region has witnessed a surge in craft breweries that are challenging the boutique wineries who once exclusively dominated the landscape.
The expansion of brewing in the region has become an important aspect for local economies, with many businesses getting behind a progressive beer industry and acknowledging the boost it offers to tourism, retail and hospitality.
From brewery tours to considered beer lists in many local eateries, and even an annual South West Craft Beer Festival, WA's famed South West region is a hub for craft beer with a reputation for quality that is rivalling its global adulation for fine wine.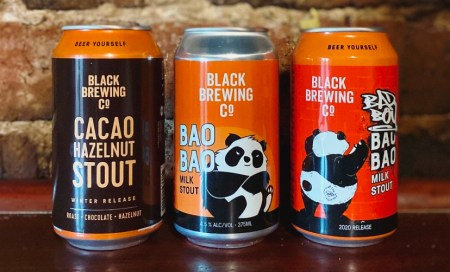 BACK TO BLACK
Come for the Bao Bao Milk Stout and stay for so much more. You will find Black Brewing's in-house restaurant, brewery, distillery and cellar door in Wilyabrup, along the Caves Road tourist route, and about a 20 minute drive from Dunsborough.
Whatever you're after, these guys are sure to give you the quintessential taste of the South West region. Their impressive craft offering includes a selection of stouts, ales, lagers and cider as well as boutique gins from their Dune Distilling distillery and some of Margaret River's best wine varietals all served alongside a delicious menu.
The aforementioned Bao Bao is their hype beer of the moment, and for good reason, but their seasonal releases, like the Citrus Wheat, will all make for ideal quaffing this Summer.
It's the perfect place to enjoy with family and friends as you soak up the views of the stunning gardens, lake and island surrounds. Relax on the deck or in the beer garden while the kids enjoy their own special menu, playground and the open spaces to run around.
Executive chef Hayden Vink's pared-back menu, includes shared dishes and delicious pizzas that utilise quality local ingredients – from the ocean, pasture, garden and pantry. Leashed dogs are welcome in the beer garden too!
Black Brewing Co 3517 Caves Rd, Wilyabrup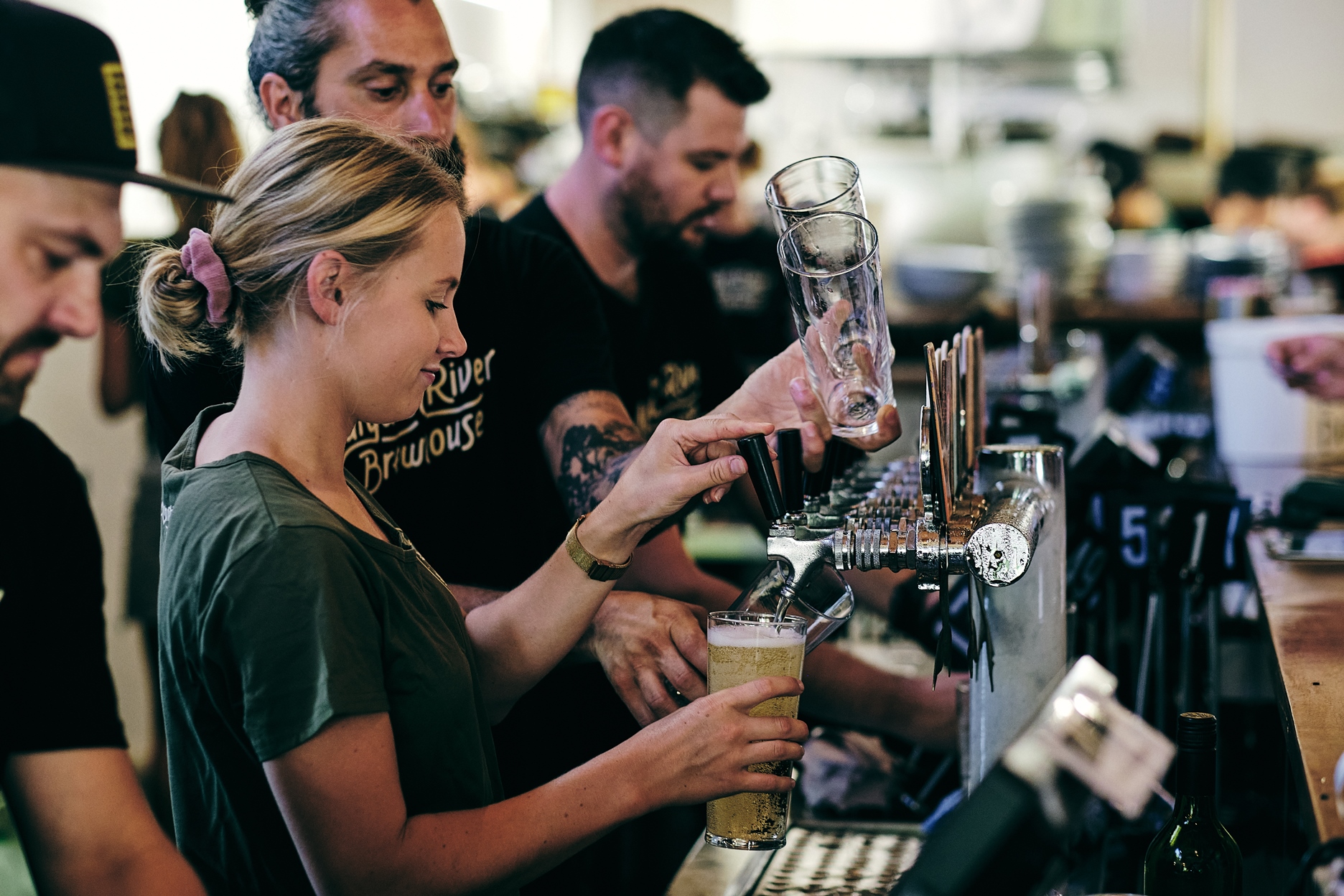 KEEPING IT LOCAL
If staying in Margaret River town and not wanting to venture too far on your visit, you won't need to suffer without quality beer thanks to Margaret River Brewhouse. It's a hot spot for travellers due to its convenient location, refined pub grub and tasty, consistent beers.
From the centre of Margaret River's main strip, it's about a five minute drive or 15 minute walk, which entails crossing the Margaret River itself and passing through a portion of scenic national park. On arrival, it will most likely be busy, which is a common theme for the large, family friendly venue. Bookings are always recommended but the team do a fantastic job of accommodating those who like to freestyle.
Reasonably priced and generous meals accompany a popular core range of beers that feature an oatmeal stout, brown ale and pale ale, further bolstered by seasonal releases, house made ginger beer and guest taps. Also look out for the annual release of their multi-award winning barrel-aged Imperial stout – the Panther Cream. On weekends, live bands perform on the deck overlooking unsullied Margaret River forest.
Margaret River Brewhouse 35 Bussell Hwy, Margaret River
DOWN ON THE FARM
When heading to idyllic Margaret River from Perth, one of the first breweries on your drive down will be Metricup's Beerfarm, located 20 minutes out of Margaret River town and a favourite watering hole for locals. Metricup is primarily a cattle farming town, and Beerfarm have established themselves on an actual cattle farm where they serve punters fresh, continually changing beers alongside shareable plates from their food truck-style kitchen and hearty American BBQ courtesy of Burnt Ends Smoking Co. Both food options are fused into a single, chalkboard style menu and utilise meats and other produce sourced from the Beerfarm property.
Their tap list spans lagers and Pale Ales through to Imperial stouts and barrel-aged fruited sours and should please just about everyone. Although their seasonal beers are always on the move, Beerfarm offers a core range and a selection of limited releases available in cans for takeaway.
Beer aside, Beerfarm has something for the whole family, including local wines and soft drinks for non-beer drinkers and exceptional views from their picnic style outdoor seating, which is dog-friendly, and features a slip
'n' slide for the kids to enjoy in the warmer months.
Beerfarm 177 Gale Rd, Metricup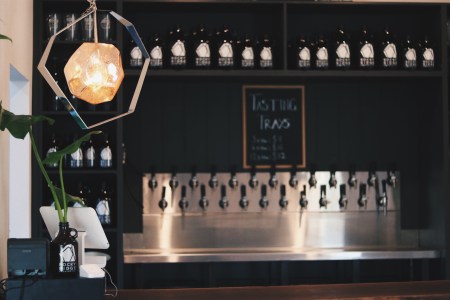 ACROSS THE RIDGE
Continuing the brewing and farming vibe is Rocky Ridge Brewing Co, who have their 'ground to glass' dedicated brewery setup in Jindong, slightly inland from Margaret River. The Rocky Ridge team, led by founder Hamish Coates, have been brewing out of Hamish's family dairy farm since 2017 and are a force to be reckoned with in WA beer, releasing an array of specialty, seasonal, collaborative and limited releases on the regular since
their inception.
Their Jindong brewery isn't set up for punters, so they've established a home base in the heart of Busselton, not far from the picturesque foreshore and famous Jetty. Set in an old, cottage style home (also a part of the Coates family for generations), the Rocky Ridge Cellar Door has been remodelled to serve 24 rotating taps of their beers along with packaged take-aways, merch and snacks.
On weekends, local food vans feature, serving up beer appropriate foods like burgers, fried chicken and American BBQ. The cellar door is only licenced to serve tastings, which is actually ideal – for the price of a pint,
guests can try any six Rocky Ridge beers on offer and enjoy them on the venue's spacious deck or comfy bean bags in the sun.
Rocky Ridge Brewing Co 665 Boallia Rd, Jindong
Cellar Door 10 Marine Terrace, Busselton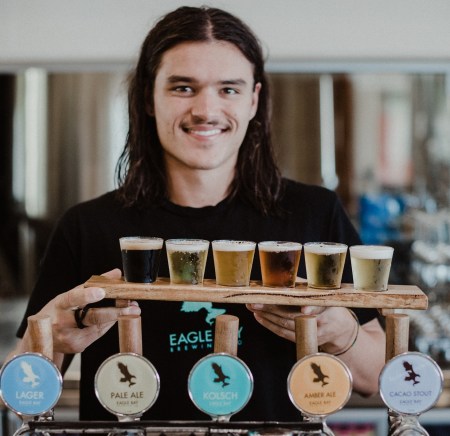 BREWED BY THE BEACH
If coastal dwelling is more your thing, a trip to Eagle Bay Brewing Co might satisfy your thirst for quality beer and alluring ocean views. Just outside of the iconic coastal town of Dunsborough, they offer up their take on classic styles, seasonal experiments and a very polished food and dining experience. With a longstanding reputation for brewing quality ales and lagers with distribution throughout WA, a visit to their minimalist, modern style brewpub offers another level to their popular beer offerings.
Taking a seat in the buzzing Eagle Bay restaurant means mingling with holidaying families, trendy locals and friendly surfers alike. A kitchen garden provides produce for the generous menu and estate vineyards provide fruit for the wines that feature on the drinks list.
Eagle Bay have been providing quality craft beer and hospitality to the region for 10 years and have become very good at doing so. Highly recommended!
Eagle Bay Brewing Co 236 Eagle Bay Rd, Naturaliste

CHEEKY CHOICES
Cheeky Monkey Brewing Co have established themselves as a prominent, consistent brewer in WA over their eight year history and they proudly call the South West their home. Their history kicks off at their Caves Road brewpub, which is still operating today, and features a cellar door for estate made wine, a playground and an inviting beer hall style eatery. Pizzas and sharing foods mostly feature and pair well with Cheeky Monkey's beers, which include their famous Silverback stout and ever reliable session ale.
The Caves Road location also puts drinkers in a prime position to enjoy many of the wineries dotted along Caves Road. Tour groups and buses frequent the venue, which is a great option for those who want to responsibly taste and explore the region's alcoholic offerings.
Along with their Caves Road brewpub, Cheeky Monkey also recently expanded their brewing operations to include a new brewing facility in Vasse, about 10 minutes from Busselton. The large production facility, that opened in 2019 in a bustling industrial complex, has a cleverly incorporated bar and food offering set amongst the brewhouse and tank farm, where beers can be enjoyed alongside the Cheeky brewers going about their daily duties.
Both venues offer affordable food and friendly service, along with take away beers, merch and, of course, an array of seasonal and core range beers on tap.
Cheeky Monkey Brewing Co 4259 Caves Rd, Wilyabrup

THE DEEP SOUTH
If you've somehow managed to work your way through the beer offerings of Margaret River, Busselton, Dunsborough and surrounds, you might find yourself inspired to move further south, continuing your craft beer adventure towards historically significant Albany, the former whaling port and home to Wilson Brewing Company. The small, family run brewery keeps locals and visitors well-watered with beers like Dirty Oar Harvest Brown Ale and Figure Head Blonde Ale, served in their cosy brewhouse that features relaxed vibes and the Wilson food truck serving fresh, simple meals on weekends. Wilson Brewery is a hit among locals that pays tribute to the town's compelling past.
Wilson Brewing Company 47768 South Coast Hwy, Albany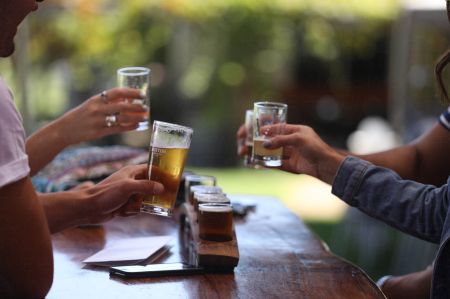 Before arriving in Albany however, you'll pass through Denmark and will come across Boston Brewing Co, the only brewery and a known hot spot in the tiny township of just 2,500 residents. Boston has a large brewhouse with landscaped gardens and lawns, ideal for families and carefree pit-stops. A pub style menu caters for most tastes and the beer list includes beers to the tune of Boondie Rye Pale Ale, Afterglose Raspberry Gose and the hugely popular Squeeze NEIPA. Whether it is a brief stop on your way to Albany or your final destination, Boston provide outstanding beers among pristine country landscapes.
Boston Brewing Co 678 South Coast Hwy, Denmark

FRESH IS BEST
Wild Hop Brewing Co is one of the newest additions to the beer scene after they kicked things off in late 2019 on their huge Yallingup property. They've quickly established themselves as serious contenders in the WA brewing scene and their contemporary brewpub hasn't shown any signs of slowing since.
Being the talk of the town, Wild Hop have been under the pump from thirsty punters, both locally and from afar, who want to try their range of witty and humorously named beers that to date has included just about every style of beer known to man. Their West Coast IPAs, dry Irish stouts and fruited kettle sours are only available at the venue on tap, for in-house consumption or growler takeaway, and they often move quick. Not to worry though, as with every blown keg comes something just as exciting as the last and with such a heavy rotation, freshness is guaranteed.
Wild Hop might be new in the craft beer game, but the team have good service and great hospitality figured out. Soak it all up on their huge deck, or cosy up on the couches inside, with a few plates of their simple, flavour driven meals that feature garden produce and clever beer-based components. The beer battered pickles are an absolute must, by the way.
Wild Hop Brewing Co 1301 Wildwood Rd, Yallingup

BREWERY TOURS
If you're heading to the region with a bunch of mates, there's a range of tour and charter companies that can conveniently accommodate your needs.
Margaret River Brewery Tours is the original brewery tour company in the region who have a passion for curating experiences that cater to those wanting to see the breadth of breweries on offer in WA's South West. With their in-depth knowledge and passion for local craft breweries, they can fine tune your experience to keep all members of your group fed, entertained, hydrated, educated and wholly satisfied.
margaretriverbrewerytours.com
Easy Ride Tours offer electric bike tours for the environmentally conscious and those wanting to connect with their surrounds. The tour starts and finishes at Margaret River Brewhouse, for pre and post-cycle fuelling.
easyridetours.com.au
Margaret River Pick Me Up are perfect if a private tour for just a few people is preferred and they can provide charter for up to seven people travelling from Augusta right through to Bunbury. They offer a single day tour for those who might want to indulge in a jam-packed day trip to the region exploring everything from wineries and breweries to fancy restaurants and tourism hotspots.
mrpickmeup.com.au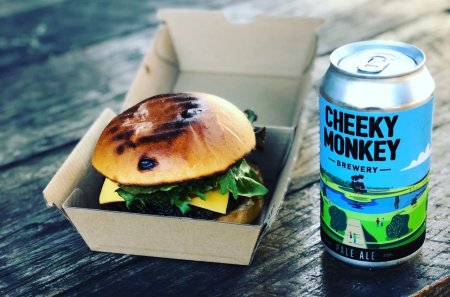 BEER & FOOD
The South West region is awash with a huge variety of dining options that range from cheap and cheerful to highly polished, nationally recognised fine dining experiences.
Burger Baby Margaret River serve up delicious burgers alongside a range of local beers on tap and in cans.
burgerbabymargs.com
Settlers Tavern is a Margs favourite, offering substantial pub meals, American BBQ and a world class wine list to the sounds of live bands and entertainment. A few taps are dedicated to local beers and the pub even brews a couple of its own locally, under their Margaret River Ale Co banner.
settlerstavern.com
The Firestation delivers tasty food paired with quality beers, where the pizzas are pretty special and the taps constantly rotating. One of Busselton's best.
firestation.bar
The Goose Beach Bar and Kitchen is a bustling venue in Busselton that always ensure their range of taps are occupied by local brews. It's the perfect spot for a quick bite or lengthy lunch.
thegoose.com.au
Clancy's Fish Pub in Dunsborough is a long-time supporter of independent beer and their family-centric venue boasts a full craft line-up packed with plenty of local drops. The venue offers a seafood driven menu with options to please the kids and those who arrive particularly hungry. Live music, art exhibitions and even a film festival feature on the regular.
clancysfishpub.com.au/venues/dunsborough
This feature originally appeared in the Spring 2020 edition of Beer & Brewer magazine. Subscribe here.