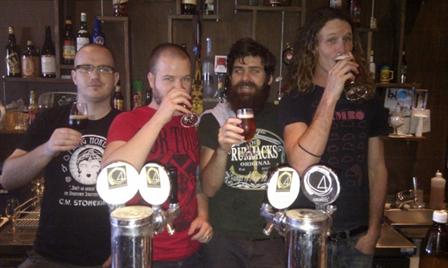 On Sunday March 25th, 4 Hearts Brewing staged a one day bar coup and took over all 4 taps at The Scratch Bar Milton. The taps were willingly surrendered by the bar team with locals and beer fans alike coming along to share in the war spoils.
Wade Curtis from 4 Hearts reports that the day was a great success with the bar reaching its 60 person capacity early on and almost two hours before the usual 4pm Sunday arvo rush.
The featured beers included the popular 4 Degrees Pale Ale along with prototype beers: 4 Degrees I.P.A , 4 Degrees Wein Lager and 4 Degrees Coal Miners Stout. "All 3 new beers were well received and we had some great support from our loyal fans as well as introducing some new drinkers to 4 Hearts beers," says Wade.
For those who missed out 4 Degrees Pale Ale and Summer Wheat beer are permanently on tap at Yamanto Tavern, and a few other venues, as well as being available in 5 litre mini kegs from Harry Brown at Yamanto.
To find out about future events and where you can buy a schooner or two check the 4 Hearts Brewing Facebook page.