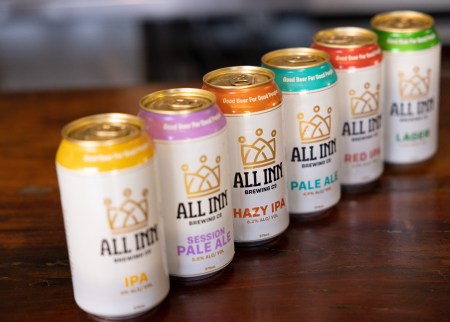 In their tenth year since launching Brisbane brewery All Inn Brewing have revamped their core beer range line-up as well as unveiled all new branding and can designs.
Their COO Luke Phillips said some of the beer names and can designs have been simplified while the core range now consists of the Pale Ale, Session Pale, Lager, IPA, Red IPA and a brand new Hazy IPA. While the characters and names that were previously on their beers have been removed, the tagline "Good Beer for Good People" has been added to the neck of the can.
"We aren't really changing, we are just evolving and making it cleaner and easier to distinguish your choice of style," Luke said.
"Some of our previous taglines and can designs over complicated the beers we make and what we are trying to do. We just want to produce good beer for good people. We are really just about great beer and serving the good people of our community, both locally and further afield."
While their Pale Ale and Session Pale remain unchanged apart from in terms of their can design, some of the more noticeable aspects of the core range update include their Red IPA's ABV being lowered to 6.5% and the introduction of the 6.3% Hazy IPA.
"The characters are cool, but on the shelf in bottle shops they are a little confusing," Luke added.
"We are trying to continue our success and grow our wholesale representation outside our main sales area where people know us best. The new can designs are clean and clear and tell people about the beer. Most people buy beer based on taste and the new cans make it easier for people to make an informed decision."
Luke said All Inn has much planned for the year ahead with a push to have their beers in more bottle shops and bars, to release more seasonals and limiteds and to host bigger events. The latter of those kicks off on March 4 with a locals launch party at the 'Shed' – their taproom in the northern Brisbane suburb of Banyo.