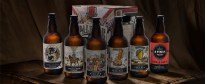 4 Pines has unveiled its biggest launch to date releasing five new pale ales as part of 'The Bastard Children of the British Empire', a special six-pack which takes drinkers on a frothy journey through the history of England, America, New Zealand, Australia and Belgium's pale ale style.
Part of 4 Pines' Keller Door selection, the beers were launched at the Brookvale brewery last night, with more than 250 people there to celebrate the release.
"Just to give you a bit of magnitude to the ambitious feat that this local brewery on the northern beaches of Sydney is trying to undertake by pulling off The Bastard Children of the British Empire," said 4 Pines general manager Jaron Mitchell at the event.
"For the six beers that are part of the six-pack, which are going to be distributed nationally throughout bottleshops, we used 6.3 tonnes of malt, 19 different hop varieties and 145 kilos of hops."
The 4 Pines team took the crowd on a journey of pale ale discovery with 'The Bastards' introduced one-by-one in chronological order from pale ale's inception in 1790 in England through to 2008 when 4 Pines 'tamed the bastards'.
"Pale ale is probably the most recognised craft beer style in Australia but the flavour profile can differ so dramatically depending on various influences," said Mitchell.
"Since the Brits first gave us the style, we thought we'd follow the journey of the beer as it progressed around the world."
Each 'Bastard' was teamed with food from its origin with the likes of English IPA matched to delicious mini Yorkshire puddings with roast beef and horseradish, American IPA married with a cheeseburger and New Zealand Pale Ale served with fish and chips.
Taking into consideration difference in environment, brewer and ingredients, The Bastard Children release looks to educate drinkers on the nuances between each artfully crafted beer.
The Bastard Children of the British Empire:
English IPA – 6.0% ABV / 47 IBU
Robust in flavour with subtle aroma of raisins and British herbs, this English IPA combines both traditional floor-malted Marris Otter (English two-row varietal barley) and copious amounts of famously-earthy English hops.
American IPA – 6.3% ABV / 70 IBU
Boasting a full flavour and resinous musk, this aggressively hopped American IPA has assertive bitterness and distinctively aromas of citrus and grapefruit. Unfiltered to maintain the raw, tannic mouthfeel from the hops. Antioxidants galore!
New Zealand Pale Ale – 4.5% ABV / 29 IBU
Drink in the broad spectrum of tropical fruit characters typical of New Zealand hops. Clean and crystal clear from cold filtration. What else would you expect from a country so close to Antarctica?
Australian Pale Ale – 5.0% ABV / 32 IBU
This brew is straw-like in appearance, unfiltered and naturally-conditioned for one month in the bottle. Small amounts of carried-over yeast provide a distinctive fruitiness and plenty of vitamin B to help with hangovers in any cases of accidental overconsumption.
Belgian Pale Ale – 5.6% ABV / 19 IBU
Traditionally less bitter with a toasty malt sweetness, the famous yeast-driven phenolics produce a refreshing spicy and fruity character.
4 Pines Pale Ale – 5.1% ABV / 35 IBU
A colourful deep ruby amber appearance. Aromas of pine and grapefruit overlay a malt backbone. On the palate full bodied malty flavours with a tight and bitter finish.
In celebration of the release and to give fans an opportunity to taste the cultural brews, 4 Pines will be hosting public events in Sydney, Melbourne and Brisbane.
Event details:
Sydney:
Tuesday 24 March: The Taphouse, 122 Flinders St. Darlinghurst, 7pm, book tickets here.
Brisbane:
Wednesday 25 March: Bitter Suite, 75 Welsby St. New Farm, 6pm, free Entry, RSVP by 18 March here.
Melbourne:
Thursday 26 March: Junction Beer Hall, 15 Hall St. Newport, 6pm, free entry, RSVP by 19 March here.
Words by Lucy Le Masurier and Annette Shailer