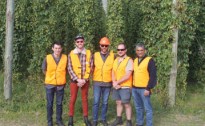 The Australian International Beer Awards (AIBA), conducted by The Royal Agricultural Society of Victoria (RASV) has announced the 2015 Collaboration Beer will be called 'Girt By Three'.
Each year the highly-anticipated collaboration beer is created by the previous year's Champion brewers of the Large, Medium and Small Australian Brewery Categories.
The 2014 Champions, Carlton & United Breweries (large), Thunder Road Brewing (medium) and 3 Ravens (small) announced their collaborative effort is named 'Girt By Three' as a testament Australia's rich brewing history and future of the industry.
"The ABIA Collaboration Beer is a great opportunity to celebrate beer and an opportunity for brewers to come together and produce a beer that enhances the beer category," said CUB's Jaideep Chandrasekharan.
The three brewers visited Victoria's Ovens Valley to source the hops for their pale ale. The brew will feature old and new world influences; including a classic English yeast strain, an old English malt variety, refined sugars, Pride of Ringwood hops for bittering and an age-old tradition of blending in aged beer from the cellars of all three breweries.
"We are really enjoying working with the other brew teams in this collaboration and believe the beer will be a stand out," said Thunder Road Brewing's Marcus Cox.
"In style, it will take some great, historical elements of the past and combine them with modern ingredients and processes. You might say it will take the best of the old and the new, and combine them into a beautiful, highly drinkable and refreshing drop that we think will be a crowd pleaser."
Brew Day has been set for 16 April at 3 Ravens in Thornbury, Melbourne and the unveiling of 'Girt By Three' will be at the AIBA dinner and awards presentation on 21 May as a part of Good Beer Week. The beer will also be available to taste at the Great Australasian Beer SpecTAPular (GABS) in Melbourne 22-24 May and in Sydney 30 May.
Words: Lucy Le Masurier