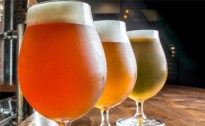 The Brewers Association (BA) has released 2014 data on US craft brewing, revealing that for the first time ever, craft brewers have reached double-digit volume share of the marketplace.
BA, the trade association representing small and independent American craft brewers, has reported that craft brewing has increased to 11 per cent in the marketplace. In 2014 craft brewers produced 22.2 million barrels and saw an 18 per cent rise in volume and 22 per cent increase in retail dollar value.
"With the total beer market up only 0.5 per cent in 2014, craft brewers are key in keeping the overall industry innovative and growing," said Bart Watson, chief economist at Brewers Association.
While larger beer companies have had minimal growth, the craft beer industry continues to excel, with their ambitious goal of 20 per cent market share by 2020 looking all the more achievable. Throughout 2014, 615 new breweries opened with only 42 closing.
This is not just a win for the craft world, but the economy in general, with the craft brewery growth creating 115,469 new jobs.
"These small businesses are one of the bright spots in both our economy and culture. Craft brewers are serving their local communities, brewing up jobs and boosting tourism," said Watson. "Craft brewers are creating high quality, differentiated beers; new brewers that match this standard will be welcomed in the market with open arms."
Words Lucy Le Masurier