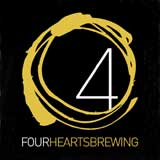 Queensland-based craft brewers 4 Hearts has announced that they have finally managed to get their killer Pale Ale into bottles, after three years of keg-only availability. It's a big step for owner Wade Curtis, who has had to overcome a number of hurdles to get his beer to market in bottles.
"I'm super excited to finally see our Pale Ale in bottles and available for people to take home or for smaller bars or restaurants to be able to serve the beer without a tap system," Wade says. "Since we launched this beer people have been asking – when will it be available in stubbies?"
Despite being based in Queensland, 4 Hearts has had to cross the border into NSW to team up with Brewpack to get the pale ale brewed and into a bottle. Keg brewing of the pale ale is still being handled in Queensland, through Bacchus Brewing.
"I really wanted to produce the beer in QLD but it was just impossible to find a brewery that could accommodate our production and also do it a price which means we could offer it for sale to our customers at a reasonable price," Wade said.
The bottled beer is currently on-sale at Harry Brown Yamanto and discussions are on track to have the beer available at other bottle-shops and bars in Ipswich, Brisbane, Sydney, Canberra, Melbourne and Adelaide.
For more details, check out the 4 Hearts facebook page.