From Pilseners to Imperial Stouts, Prancing Pony Brewery produces beer for every occasion and every taste.
Prancing Pony Brewery takes you on a flavor journey with its variety of beers and focus on long and lingering flavours.
The Brewery produces has recently added a single IPA with 25% rye to its core range of 6 beers, all unfiltered and bottle or keg conditioned using malts, hops, yeasts and water as the only ingredients.
Head brewer, Frank Samson, is forever on the hunt for the next brew sensation. He has had a long association with brewing having brought this tradition with him from Germany. Working closely with his team, he strives to ensure traditions and innovations are upheld and passed on.
It takes time and patience to brew this way. Long flavours can't be rushed! It gives the Ponies time to think about the next brew…and then think about the one after… so that each batch tastes as good as the one before.
The Brewery believes method and the best raw ingredients matter.
It's this attention to detail that saw Prancing Pony Brewery take out the Supreme Champion medal for its India Red Ale at the International Beer Challenge, UK, 2016. The judges said of its India Red, " beautiful balance and bold but approachable flavours that were memorable enough to stand out in a field of very powerful and punchy beers."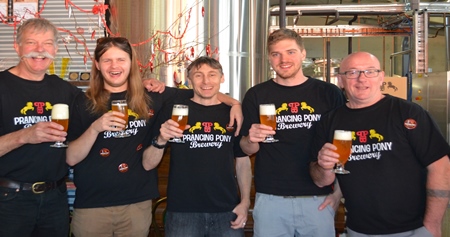 This followed winning the best in class trophy for its India Red and Silver for its Black Ale.
To keep it interesting for the punters and the brewers, there are always new beers on tap, so are seasonal brews such as the Magic Carpet Midnight Ride – Imperial Stout, a Maerzen and the Hefe Weizen.  We also keep some taps just for some pretty crazy 'once-off, limited releases' or we tap a beer by another brewery that we are like.  This month, the brewery is installing a 16 tap bar and we all can't wait to see some of the 'Lehrling Bier', that our brewer apprentices will produce.
Located at 42 Mt Barker Road Totness, just near South Australian tourist town, Hahndorf, the brewery is licensed for up to 120 people and can host up to 300 for functions.
All processes of the beer brewing, from start to finish, from grain to bottle or keg, are carried out at the Totness facility in full view of visitors coming to the Brewshed.
The Brewshed is open for sales and tastings 7 days a week 10am to 6pm and can be found at 42 Mt Barker Road, Totness. 
Happy Hours on Fridays from 5pm to 7pm.
For further information:
CEO, Corinna Steeb on 0439 889 513 or 08-8398 3881
www.prancingponybrewery.com.au
www.facebook.com/PrancingPonyBrewery