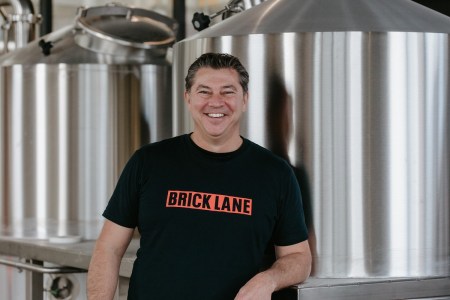 Brick Lane has revealed the findings of its research into the state of the no and low alcohol (NoLo) category.
The craft brewery, that has a NoLo beer sub-brand and brews various non-alcoholic beers via contract, commissioned an Australia-wide survey of 1,000 adults who are regular consumers of alcohol. The sample was provided by consumer research panel firm Pureprofile.
The research found that 45 per cent of those surveyed regularly or occasionally consumed NoLo products, with particularly high uptake amongst younger and more active people.
NoLo consumption expected to increase
According to the research, 32 per cent of respondents consume NoLo beer occasionally or regularly. Moreover, 60 per cent expected their consumption of NoLo drinks to increase somewhat, while 18 per cent expect this consumption to increase "a lot".
Brick Lane CEO and co-founder Paul Bowker (pictured) said: "It's clear that NoLo alcohol is no longer a curio or peripheral category but one which is being embraced across a broad cross-section of demographic groups. In particular, younger Australians and those who want a healthier lifestyle are embracing NoLo drinks as a way to have the best of both worlds.
"There are now a raft of options, such as our Sidewinder Beer range, that now provide the taste and refreshment that consumers are after, while at the same time delivering it in a no alcohol package that can be consumed across a wider variety of occasions."
The occasion and environment
Brick Lane's survey found that dining out at a restaurant was the most popular social setting for NoLo consumption, with this occasion picked by 42 per cent of respondents. Work functions and at a friend's house were also popular environments, selected by 41 and 35 per cent of those surveyed respectively.
Being able to drive after consumption was chosen as the most popular reason for continued NoLo consumption, attracting 42 per cent of those surveyed, with this number higher (with 49 per cent) among men.
Part of a healthier lifestyle
The research also highlighted how NoLo consumption was correlated to healthier lifestyles, with 30 per cent of those surveyed saying their reason for choosing NoLo products was "to be healthier".
Sixty-three per cent of the group surveyed, who exercise four times or more a week, said they would encourage family and friends to drink NoLo products. Nearly half (46 per cent) of the same cohort saying they were witnessing more NoLo consumption among their peers.
Sixty three per cent of respondents stated they "highly enjoy their lives" and think that their NoLo consumption will increase either a little or a lot in future.
Only seven per cent of respondents said they intend to go fully teetotal, though four-fifths of current NoLo drinkers believe their consumption of the category will increase.
Younger people choosing NoLo
The research also showed that younger legal age drinkers are more likely to increase their NoLo consumption. Seventy-one per cent of those in the 18 to 34 year old cohort believe that their consumption of NoLo products will increase, and 68 per cent of this age group would encourage friends and family to drink beverages from the category.
Paul said as this cohort ages, the NoLo category will only grow in size.
"The NoLo category is already growing rapidly and as younger people grow older and become even more influential as a consumer group, we anticipate growth will continue to be exponential. We see no reason why NoLo can't soon capture 10 per cent of the Australian market.
"Let's face it, NoLo drinks have historically been limited to relatively bland taste profiles. But over the past 18 months, we've seen the quality, flavour and depth of NoLo products improve significantly.
"With taste remaining a key barrier to adoption, the future category winners are going to be those who are first to deliver great tasting NoLo products. The growth trajectory has been opened up by a number of innovative retailers from specialists such as Blackhearts & Sparrows through to significant investments being made by the majors such as Dan Murphy's."
Read our recent feature on the NoLo category, where we spoke to some of the Australian craft breweries producing various products, including Brick Lane.