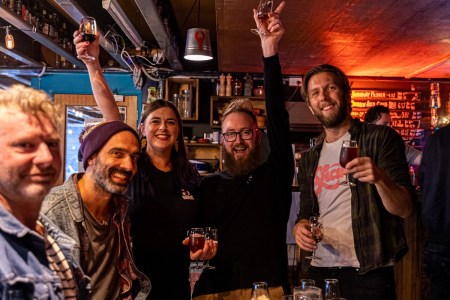 3 Ravens Brewing, said to be Melbourne's oldest craft brewery, has announced a crowdfunding campaign to expand its locations, and purchase 'state of the art sustainable technology' including a CO2 chiller heat pump.
The equity rise will be facilitated through crowdfunding platform, Birchal.
The new heat pump will allow the brewery to capture wasted heat from the production process, and (alongside other new technology) reduce its energy consumption by more than 70 per cent. The result will be a cash saving for the brewery, alongside a radical decrease in carbon emissions.
Nathan Liascos, 3 Ravens' General Manager, said that greater sustainability was of great importance to the brewery.
"The heart of our business is the award-winning beer we brew, however reducing our environmental impact in any way we can has always been a priority for us.
"We're incredibly proud of the work that has been done to develop this new technology, and look forward to sharing our techniques, insights and technology with other brewers, independent or not."
3 Ravens has received grants from the Manufacturing Modernisation Fund and the Small Scale Craft Grant valued at $300,000, with this money earmarked to help the distillery with the development and installation of this new technology.
These grants were given to 'support the modernisation of the brewing industry and develop a more highly skilled workforce, and ensure Victoria continues to be a leader in artisanal produce', a 3 Ravens statement read.
The brewery has plans to open a second brew-pub in Perth later this year, with this venue representing 3 Ravens' first outside of Melbourne.
3 Ravens Head Brewer, Brendan O'Sullivan, explained the importance of this new location, saying: "Perth is home to some of Australia's best and most creative brewers, including a lot of members of our own team. It's also where I grew up, so for a lot of us it's kind of a homecoming."
"It's a really exciting prospect to bring not only our beer to Perth, but our expertise and sustainable focus to the local community and hopefully showcase how other breweries can also reduce their carbon footprint," O'Sullivan continued.
For 3 Ravens, the eventual expansion will mark the zenith of a long journey, as the brewery began 18 years ago in a warehouse attached to an engineering business. Since then, 3 Ravens has been awarded Champion Australian Small Brewery three times, and is known for its experimental releases.
The brewery is also planning on expanding its existing Thornbury bar, with the addition of a kitchen to create an in-house food offering. 3 Ravens stated that: 'With high demand for the beverages in Sydney and Brisbane as well, the team are eyeing locations in these cities to offer fans the chance to drink the beer as close to the source as possible, helping reduce the impact of the supply chain on the environment.'
The crowd funding campaign is currently open for expressions of interest at the Birchal website, with the funding round opening in a 'few weeks' time.