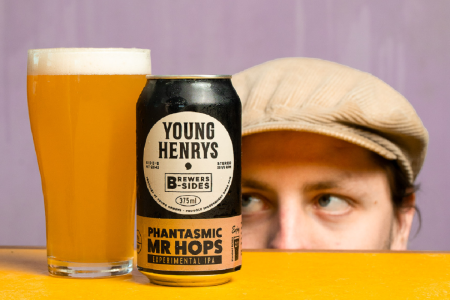 Young Henrys' Brewers B-Sides limited releases have always been where their brewers get to push boundaries, but their latest – the Phantasmic Mr Hops Experimental IPA (7.0% ABV) – may just be one of their most avant garde yet.
Over the years we've seen the likes of the Wattleseed & Blood Orange Double IPA, Dark Blueberry Sour, Tiramisu White Stout and Raisin Brown Ale fall under the B-Sides banner. But by head brewer Jesse Searls' own admission, they've used ingredients and processes here they've never tried before.
With its name paying homage to the Wes Anderson film, the Experimental IPA harnesses the new Phantasm product that was developed by Garage Project co-founder Jos Ruffell. The powdered brewing aid is made up of Sauvignon Blanc dried grape skins which are rich in thiol pre-cursors. By using it during active fermentation, Phantasm encourages yeast to unlock those thiols which can impart intense tropical aroma in a finished beer.
"We hadn't done a B-Side in a while, so the brew crew wanted to make this one super special," Jesse said. "We used ingredients and processes that we had never tried before – from the malt, to the hops, the yeast, the process aids, and brewing processes themselves – almost everything was a first.
"We chose to add (Phantasm) into the fermenting beer when it was most active, along with a minor portion of the total dry hop. We did this to try and encourage as much interplay between the yeast, hops, Phantasm and remaining unfermented sugar in the wort. It was kind of like throwing petrol on a fire. I've never seen a fermentation that active, it was absolutely crazy!"
Phantasmic Mr Hops also utilised FERMOPLUS® Fruity – which is a brewing yeast nutrient with specific natural amino acids and is ideal for obtaining beers with high tropical aromatic profile.
Jesse added: "It's a fairly similar product (to Phantasm), but we used it in a different part of the brewing process. With a beer like this one, you'll never really know exactly which of all these new things was responsible for what, but that was really the point. We wanted to just chuck a bunch of cool new paints at a canvas and see what we got."
They also turned to the experimental US hop varieties HBC 1019 and HBC 58 as well as Simcoe Cryo, Sabro and Taiheke. Young Henrys said the result delivers "waves of caramelised coconut, sauteed pineapple and… citrus… before giving way to a creamy luxurious body and mouthfeel".
The beer is available via the brewery or in bottleshops nationally.