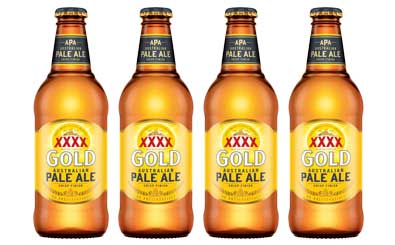 XXXX GOLD has announced today it is releasing a mid-strength pale ale, XXXX GOLD Australian Pale Ale.
Brewed with a combination of specialty malts, Amarillo hops and fermented ale yeast, XXXX GOLD Australian Pale Ale is described as "an easy drinking, mid-strength beer with a crisp finish."
XXXX Brand Director Tanya Marler believes the beer will continue to drive growth in the mid-strength beer category.
"XXXX GOLD Australian Pale Ale is perfect for those casual weekend afternoons spent with family and friends in the Aussie outdoors. It has the refreshment and drinkability of the much loved XXXX GOLD Australian Lager but with a distinctive full flavoured, pale ale taste for those who are looking for a beer with a bit more complexity," she said.
"Today, more drinkers want to moderate their consumption due to increasing responsibilities and general wellbeing so they're looking for less than full strength alternatives. Mid-strength provides a great option for these drinkers due to the balance of lighter alcohol with great flavour."
This is the first pale ale introduced under the XXXX GOLD trademark by Lion.
"We know that pale ales are in growth and this is the first pale ale to emerge from a classic mid-strength beer such as XXXX GOLD, offering drinkers a new style from a brand they know and trust.
"This is XXXX GOLD's take on the pale ale style – just like XXXX GOLD Australian Lager it has more flavour that you'd expect from a mid-strength beer but with a less bitter and hoppy flavour than other pale ale styles on the market it is still an easy to drink beer," said Marler.
"Our drinkers' tastes are evolving and they want more choice and diversity when it comes to choosing a beer. XXXX is committed to innovation and providing greater choice that suits more occasions and this new beer is an example of that."
XXXX GOLD Australian Pale Ale will be available nationally from Monday (20 July) in both pack and on tap.
This is the second new pale ale from Lion in the past month, with Tooheys releasing Tooheys Darling Pale Ale in June.