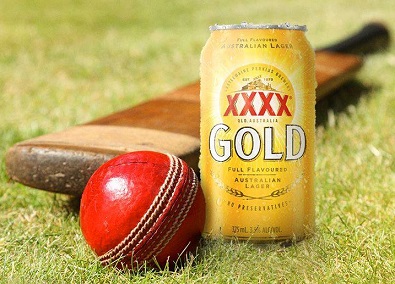 XXXX Gold has signed a four-year partnership with Cricket Australia following Carlton and United Brewery ending its 20 year sponsorship earlier this week.
Although Victoria Bitter's sponsorship of the Test team was replaced recently by Qantas, the beer was still the One Day International team sponsor and also the sponsor of the domestic cricket series. The two-decade sponsorship also saw talking Boonie and Warnie dolls available with the beer.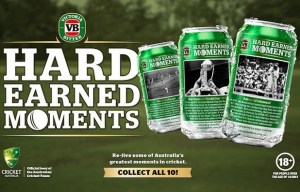 Victoria Bitter first started its association with Cricket Australia in 1997, and as well as the kit sponsorship and doll merchandise also released commemorative cans.
CUB has said that it plans to maintain its other sporting sponsorships through VB and the NRL plus Carlton Draught and the AFL.
The announcement of XXXX Gold as the new sponsor means a continuation of a long history of support of Australian sport by the drinks industry.
Fergus Taylor, the Executive Director of Alcohol Beverages Australia (ABA) said: "Enjoying a drink with mates at a sports game is part of Australia's DNA and the industry is rightly proud of its sponsorship of Australian sport, from the smallest local clubs right up to our national teams.
"Recent calls from anti-alcohol activists and health lobbyists for a ban on alcohol advertising in sport, while attempting to blame it as the cause of underage drinking are not based on credible evidence, nor are they supported by official government data.
"The reality is that underage drinking is in steady decline throughout Australia and has been for some time – official government statistics confirm this. The fact that this decline has occurred during a period of increased alcohol advertising is a clear indication that regulations in place are working well.
"Alcohol advertising and marketing does not target minors and does not encourage underage drinking or irresponsible consumption of alcohol. Before any content is seen by the public, the alcohol industry does an enormous amount of work to ensure this is the case.
"In Australia, alcohol advertising and marketing is vigorously and successfully regulated by a strict, independent, government-backed system in the Alcohol Beverages Advertising Code. Further stringent regulations exist in federal competition and consumer legislation and state fair trading legislation, the Australian Association of National Advertisers Code of Ethics and the Outdoor Media Association Code of Ethics.
"While there is no credible evidence showing causal effect between alcohol advertising and underage drinking, through initiatives such as DrinkWise, the industry is targeting the established causes of underage drinking – parental behaviour and peer influence – through campaigns informing parents their drinking behaviours can influence their children's attitudes to drinking.
"Continuing downward trends in underage drinking is an important national responsibility, and the alcohol industry is committed to ensuring this continues to occur."