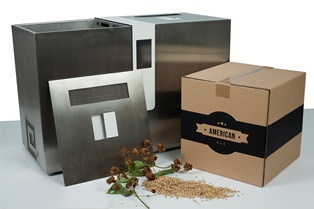 Brewie, the first fully automated homebrewing machine controlled with a smartphone app was launched on crowdfunding site Indiegogo this week.
With an award-winning design, Brewie is based on a revolutionary idea to make countless varieties of craft beer in your own home at the push of a button.
Select from a menu of 200 preset brewing processes for specific beers or adjust the brewing parameters for customised results. The premade Brewie Pads come with everything you need for a variety of brews or you can use your own ingredients. Then, just press a button and let Brewie do the rest: it controls the timing, temperature and everything else.
The Budapest-based team of engineers is led by Marcel Pal, Andrew Winter and Greg Schlotter.
Check out how Brewie works below.