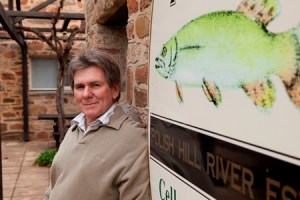 Andrew Pike
South Australia's Clare Valley is hoping to leap onto the global craft beer map with the opening of a $1m state-of-the-art brewhouse at Pikes Winery. Brewing is due to begin tomorrow (Dec 12), with the new tasting room to open in January.
"We're getting geared up right now," said Andrew Pike, the winery's director. "We'll probably start off with a pilsner and then follow up with a sparkling ale. It's all happening here at the moment."
The new facility, which includes a 2000-litre brewing system imported from Italy and a modern bottling plant, is under the direction of Brad Nolen, previously team leader at Gage Roads Brewing Company in Western Australia.
"Brad is chomping at the bit to get started," said Pike, whose family have been making wine in the Polish Hill River Estate sub region since 1984.
Although the hop and the vine are often seen as rivals, Pike's English forbears ran the Oakbank Brewery in the Adelaide Hills for almost 90 years. The family resumed beer making in 1996 with the release of a small range of traditional pilsners, ales and stouts, but felt that there was sufficient consumer demand to justify building its own microbrewery – a process which was aided by a substantial grant from the South Australian government.
Pike believes that wine-making and brewing, if correctly managed, are highly complementary activities and hopes the new brewhouse will attract more visitors to the Clare, a region which is known internationally for its rieslings.
"I think the two things go hand in glove," he said. "Knappstein, another Clare Valley winery which has branched into craft beer, set the scene many years ago, but there aren't too many others doing this in South Australia."
Apart from broadening the consumer experience at the winery, Pike says the new brewhouse will give the company more quality control, lift production and potentially allow Nolen to widen its current range of craft beers and ales.
"First and foremost we want to hone our existing products, but then we'll look at doing some regular seasonal offerings," Pike said. "It's early days." From January 2015 Pikes Wines will be open for beer and wine tastings, seven days a week. For more information, click here.