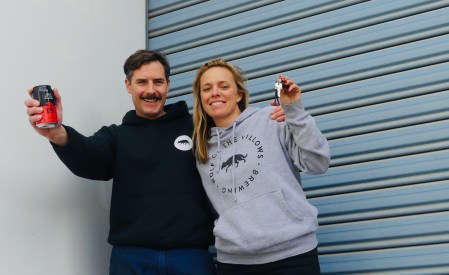 Wolf of the Willows has announced its expansion plans for a new production brewery and on-site taproom in Melbourne's south-east bayside suburb of Mordialloc.
The partially completed brewery and taproom recently became available and Wolf of the Willows, which had reached production capacity halfway through 2018, leapt at the chance.
The new site will feature a 115-seat taproom, with 12 rotating beers on tap. In the initial stages they will partner with local food trucks with council approvals to build their on-site kitchen and food offering in the future.
Wolf of the Willows will continue to brew out of its existing co-owned brewery space with Bad Shepherd Brewing Co. in Cheltenham, but it can now expand production.
"We want to create a best practice brewing facility, one where we increase our current production volume, as well as expand our sour and barrel aging programs," comments Scotty McKinnon, founder and head brewer for Wolf of the Willows . "We'll have the opportunity to stretch the brewing wings and showcase a wider variety of what we can really do.
"The taproom will be a true 'Home of the Wolf', where we hope punters feel they can come enjoy a beer in an atmosphere that welcomes them in as part of the Wolf family, and truly reflects what we are about."
The taproom and brewery, which are located at 39 De Havilland Road, are planned to open in early 2020.
"We're so excited to become an integral part of Mordialloc and look forward to working with like-minded people and business' in the local community," says Renae McKinnon, co-founder of Wolf of the Willows.