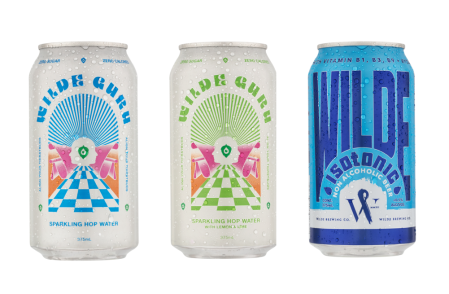 After Tribe Breweries recently announced they would be repositioning their Wilde brand into a broader "better for you" space, they've unveiled the first two beverages that highlight that change of direction for the previously gluten free only beer company.
Following in the footsteps of Heads of Noosa Brewery's non-alcoholic Hop Valley sparkling hop water and similar products overseas, Wilde have released their Guru range in cans in both natural and lemon and lime flavours. They've also joined the ranks of "sports beers" on the market by revealing the first non-alcoholic isotonic beer to be made in Australia – Wilde Isotonic. The new products join a Pale Ale and a Crisp Lager – both gluten free and alcoholic – in Wilde's line-up.
Guru is a seltzer-like adult beverage that's been dry hopped so it elicits the aromas and bitterness that are akin with beer but without the alcohol, calories and carbohydrates.
Wilde Isotonic is naturally brewed and due to its tonicity, Tribe said, it can be absorbed much faster in the bloodstream. It's made with more complex carbohydrates and is said to have 50 per cent less sugar than other standard sports drinks.
Roland Thiemann, head of innovation at Tribe, said: "What sets Wilde Guru hop water apart from other non-alcoholic beers or flavoured water, is that it is dry hopped with real hops in a similar process to how regular beer is made. After being left for two-days to unfold their natural aroma, it gives the product an overall refreshing taste that is hydrating and all-natural."
Tribe's marketing director Cameron MacFarlane said: "The past two years have definitely shown us that Australians are embracing NOLO options like never before and mindful drinking is no longer a fad, but a way of life. With the non-alcoholic beer category already growing exponentially, we saw an opportunity to create something truly unique through Wilde Isotonic, which we ensured would taste just like a typical pale ale, but work in reverse to replenish and rehydrate you, which is something that current non-alcoholic options simply don't offer."
Roland added: "Isotonic beverages have equal concentrations of solutes and water, as blood and cells, therefore can be absorbed more easily by the body. This measurement is called tonicity, which is what's been used in Wilde Isotonic to allow the drink to immediately absorb into your bloodstream after exercise and rehydrate you. No other non-alcoholic beer product in Australia currently offers this."
Wilde Guru (RRP $11.99) and Wilde Isotonic (RRP $15.99) are now available nationally in four-packs in Dan Murphy's.