Plenty about the pandemic is best forgotten but a rather more pleasant reminder can now be savoured as Bridge Road Brewers and Corowa Distilling bottle the whiskey made from 700 kegs of Beechworth Pale Ale that was originally destined for the drain back in 2020.
To celebrate the launch of The Ale Savior whiskeys – one a single cask release hand selected as the best of the bunch and the other a blend – the collaborators are hosting two special events that you're invited to. The first is this Saturday (November 12) where the official launch party will take place from 5pm at Corowa Distilling. This will also serve as the first of the distillery's Summer courtyard sessions where you can enjoy live music by James Bennet and American style BBQ. Members of the Bridge Road and Corowa teams will be on hand to chat about the release.
Then on November 17 at their pop-up A Bar Made of Cardboard venue in East Brunswick, Bridge Road are putting on a boilermaker masterclass with Corowa Distilling featuring the whiskies paired with their beers.
The release of The Ale Savior whiskeys comes after Corowa Distilling came to Bridge Road's rescue in the early months of the pandemic. Instead of seeing over 30,000 litres of the Beechworth Pale go to waste or made into hand sanitiser, it was distilled into over 8,000 litres of spirit and aged in Hungarian oak red wine and American oak red wine casks.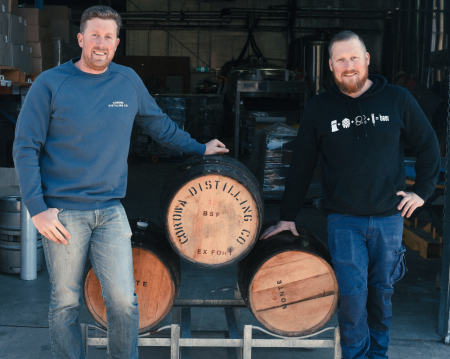 Bridge Road's founder Ben Kraus said both parties had been "blown away by… the high quality of (the) whiskey".
"The resulting whiskey has taken a strong influence from Beechworth Pale Ale with a sweet and zesty aroma," Ben said. "The flavour profile exhibits a coating mouthfeel with well-balanced oak and a stone fruit finish owing to the contribution of the hops from the ale base."