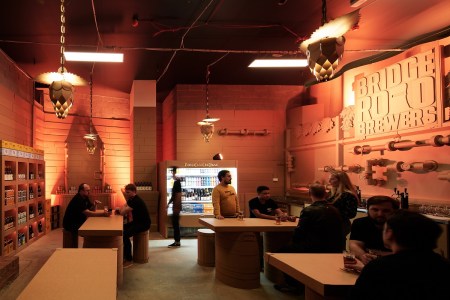 Bridge Road Brewers will open the doors to their pop-up bar in Melbourne tomorrow that's fitted out almost entirely from cardboard.
Called A Bar Made of Cardboard, the bar aims to redefine the pop-up by creating a zero-impact venue constructed from materials that are either recycled or can be 100 per cent reused, recycled or composted.
A sustainable flat-pack wonder, or the grown-up hideaway fort of your dreams, this ambitious project in inner city Brunswick East has been built in collaboration with creative cardboard designers, Boxwars and industrial packaging specialists Kebet Packaging.
From light fittings, shelving and signage, to every table and chair, the whole fit-out has been made with recycled cardboard expertly engineered to withstand the hustle and bustle of a craft brew bar. Aside from the beer taps, fridges, and the dishwasher, the bar's interior is made from 100 per cent cardboard. The cardboard itself is made up of a minimum of 75 per cent recycled content.
Ben Kraus, founder of Bridge Road Brewers based in Beechworth, said the new bar is an opportunity to push the boundaries of innovative pop-up spaces while connecting with the local neighbourhood.
"We're opening our first metro brewpub in Brunswick East later this year and we can't wait to be a part of the community, so we decided to give locals a taste of what's to come with a pop-up. However, not just any old pop up, but a unique one that celebrates the idea of its temporary nature while being mindful of our environmental impact.
"(The pop-up bar) will operate for six months before we open our permanent Melbourne home around the corner, so the space allows us to have a bit of fun and share what we do in Beechworth, all while doing the right thing from a sustainability perspective."
Ross Koger from Melbourne-based Boxwars designed the bar fit-out with a balance of structural essentials and quirky features that nod to the craft beer industry.
"Boxwars is known for cardboard creations of epic proportions so when Bridge Road contacted us to build a bar made of cardboard we jumped at the opportunity. For us, nothing spurs creative ideas like cardboard and good beer," Ross said.
"To produce the pop-up we teamed up with local cardboard manufacturer Kebet Packaging and created a new partnership called The Cardboard Mill which helps us to achieve an even higher degree of recycling. Plus, by using organic inks and glue that is biodegradable you could eat this if you were feeling like it and all you'd get is strange looks."
Ian Douglas, general manager, Kebet Packaging said cardboard is an under-utilised sustainable material for construction.
"Cardboard is usually overlooked for longer-term structural solutions, however, if it's engineered in the right way, it's a robust building material," he said.
"Plus, importantly from an environmental viewpoint, Kebet Packaging will take life-cycle custodianship of all materials used in making the bar, whether they are reused or recycled. We could even compost the fit out entirely when the pop-up is finished."
The temporary inner-city offshoot for Bridge Road Brewers can host 60 people inside and outside. Open Wednesday to Sunday, the drinks menu features Bridge Road's full line up of core and seasonal beers rotating across six bar taps. A wine list has been curated to showcase predominantly small wine producers from Bridge Road's neighbours throughout Victoria's High Country. Plus, small-batch spirits and aperitifs will be on offer including Barking Owl Gin and Beechworth Bitters Amaro from Provenance's Michael Ryan.
Alongside a small snack menu featuring Chappy's Chips and Mount Zero Olives, food trucks will park up on Friday and Saturday nights. An onsite bottle shop will offer takeaway Bridge Road Brewers beer plus a selection of Victorian wine and spirits.
The pop-up bar is a special prelude to Bridge Road Brewers' second brewery and bar due to open on the same site in East Brunswick Village in December 2022. The new 350-capacity venue is being built partnership with developer Banco and will be home to a 1000-litre brewkit.
To make way for this new, permanent venue, in six months' time A Bar Made of Cardboard will be dismantled with the materials either recycled or repurposed by Kebet Packaging.
The beer taps, fridges, dishwasher and all other hardware will be transferred into the new brewery and bar.A B
A Bar Made of Cardboard by Bridge Road Brewers opens tomorrow (April 22) in East Brunswick Village, 129 Nicholson St, Brunswick East. It will be open 4pm to late Wednesday through Friday and 12pm to late Saturdays and Sundays.
This is an edited version of a media release distributed by Bridge Road Brewers.