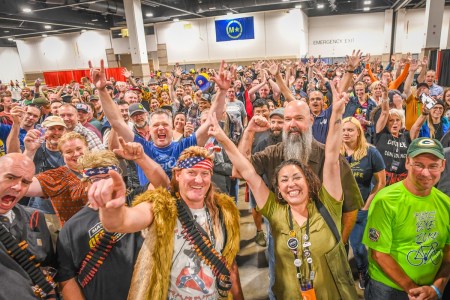 Beer festivals around the world come in many different iterations but few push the borders of innovation and discovery quite like the Great American Beer Festival (GABF), held annually in Denver, Colorado and organised by the Brewers Association, the not-for-profit trade association for small and independent American craft brewers.
After a two-year pandemic induced hiatus, this year the festival celebrated its 40th anniversary after beginning back in 1982 with 24 breweries, 47 beers and 800 visitors. The latest edition, staged earlier this month, welcomed 500 breweries who poured 2,000 beers for 40,000 visitors (and that's 25 per cent less than normal due to refurbishment works at the festival's home, the Colorado Convention Centre). How times have changed!
But American craft beer is undoubtedly the star of the show. Tickets are all-in, allowing attendees to sample as many different 30ml pours in a four and a half hour session as they like. Long queues develop for "hype" beers and the beer-savvy, well prepared festival goers have this down to a tee. For example, Sierra Nevada's new collaboration with Buffalo Trace's Colonel EH Taylor Bourbon – the Bigfoot Barleywine – had been aged in bourbon barrels for seven years and came in at a whopping 15% ABV. Samuel Adams launched the 2022 version of Utopias, an extreme barrel aged beer that consists of blends, some dating back 16 years, at a mind-bending 28% ABV. Fresh hop beers were also in high demand after the perfect timing of the festival following last month's harvest. Were such beers worth waiting for? You bet they were!
It's not only a beer lover's paradise but a world of entertainment, with crazy costumes, a silent disco, huge pretzel necklaces, Paired – the unique beer and food pairing experience, a "backyard" games area, the Brewers Studio for talks and tastings and much, much more combining to make an all-round unforgettable experience.
American craft brewers have long been considered the pioneers of the current craft beer world we see today. Ground-breaking innovation and an unswerving commitment to quality are hallmarks of this industry and the festival had both in abundance.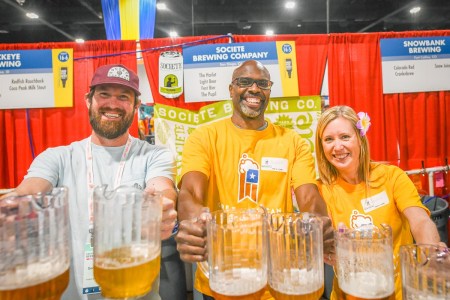 The top trends from GABF 2022
IPA
IPAs in their many iterations continue to dominate the American craft brewing scene with approximately one third of all sales. Well-made, high quality, classic IPAs featuring punchy, flavoursome American hops were highly prevalent at the festival as both brewers and drinkers alike sought a return to traditional flavours and styles such as Breakside Brewery's IPA or Coronado Brewing Co's Weekend Vibes. One of the latest trends in the IPA world is for the newish Cold IPA, a heavily dry hopped ale/lager hybrid made using bottom fermenting yeast at warmer temperatures to give a clean crispness with hop intensity and supreme drinkability. Gone was the pre-pandemic trend for Brut IPA, while milkshake IPAs were visible but few and far between.
Within the IPA category, Imperial IPAs are driving much of today's growth and this was reflected on the festival floor. Hazy/juicy IPAs were also popular but slightly less so than 2019 levels when some brewers offered three to four versions of this one style. Good examples included Melvin Brewing's Back in Da Haze or Migration Brewing Co's MoHazeIc.
Lagers and lighter styles
Lighter and more approachable styles were much in evidence with a return to less palate-challenging and more easy-drinking beers. Lagers, including Helles, Pilsner, Oktoberfest, Festbier, Marzen, Bocks and much more all featured heavily.
No and low
Alcohol-free beers account for a small but rapidly growing sector of American craft beer with 0.5% of the total market. This may seem small, but compared to other sub-sectors of craft beer it's a big chunk. There were more examples of low and no alcohol beers than ever before with brewers showing high levels of ingenuity and imagination, like Athletic Brewing Co's medal winning Lemon Radler for example.
Wood and barrel aged strong beers
Pastry stouts were less of a thing this year but intense, high ABV rare beers were much sought after, like Firestone Walker's Parabola, an imperial stout aged in bourbon barrels for a year and The Bruery's Ivoire bourbon barrel aged ale.
Weird and wacky
Although not necessarily a trend, American craft brewers love pushing the boundaries of creativity and here's three examples of ground-breaking wackiness that all tasted better than they sound: carrot and turmeric saison; gose with marsh salt and spirulina; and peanut butter hefeweizen.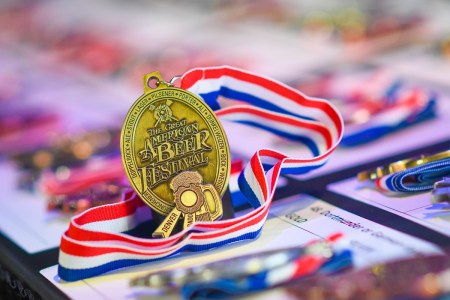 The demand for IPA and juicy/hazy IPAs is mirrored in the results of the GABF competition, which ran concurrently with the festival and took place for the 36th time. This year 9,904 beers entered the competition in 177 beer styles. They were judged by 235 judges who awarded 300 members in total. As trends on the festival floor suggest, the five most entered style categories were: American Style IPA (423 entries); Juicy or Hazy IPA (375); German Style Pilsner (233); German Wheat Ale (209); and German Style Marzen (207).
Winning a medal at GABF is highly prestigious and recognises brewing excellence. Competition amongst brewers is intense and the sheer, unbridled joy when a winning brewery is announced is testimony to that. They whoop, holler, hug and slap each other on the back before heading on stage to collect their medal and pose for a winning photograph.
Chris Williams, competition director for GABF, said: "Each year the Great American Beer Festival showcases the best that American brewers have to offer. With 9,904 entries, this year's competition was the most competitive to date and truly demonstrated why the US is the best brewing nation in the world".
Some of the beers may make their way into export markets such as gold medal winners Deschutes Brewery's Hachimitsu Mai, a lager brewed with puffed Jasmine rice, almost no hops and Chilean Ulmo honey, or perennial favourite Allagash Brewing Co's White, a Belgian style wheat beer that frequently medals in European beer competitions. Also look out for Sierra Nevada Brewing Co's Sunny Little Thing, a wheat ale made with citrus, or Cigar City Brewing's Maduro brown ale.
Some brewers liked to show off not only brewing skills but their beer-naming creativity. In this writer's opinion, the wittiest and most irreverent of all goes to the winner of the hazy/juicy IPA category, Anhyzer Kush!
After attending GABF for three consecutive days, I sampled some of the highest quality, exceptional tasting American craft beers ever and should you be lucky enough to find such beers in Australia, try them!