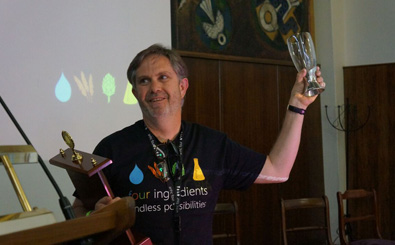 It's hard to believe it's already two years since the last Australian National Homebrewing Conference (ANHC) in Canberra. This time it's Adelaide's turn. Chris Thomas looks ahead at what to expect at ANHC 5 this October. For the full article, including Mitch Steele's Stone Ruination IPA recipe, buy the latest issue of Beer & Brewer.
For homebrew fans, there's nothing bigger or better on our shores than the Australian National Homebrewing Conference (ANHC). This year marks the fifth conference and the first time that it's been hosted in the city of churches.
The list of names featured at the ANHC in previous years is seriously world class. Speakers from international breweries have included John Keeling (Fuller's), Vinnie Cilurzo (Russian River), Stu McKinlay (Yeastie Boys) and Matt Brynildson (Firestone Walker). Add in homebrewing legends like Randy Mosher, Jamil Zainasheff and John Palmer, and you're starting to get the picture.
This year, we welcome the head brewer from a brewery twice recognised by Beer Advocate as, "All-time top brewery on planet earth. The most popular and highest rated brewery – ever!" Welcome Mitch Steele from Stone Brewing Co., USA.
Also gracing our shores is Bert Van Hecke, new world Belgian brewing sensation (and baker!) at BOMBrewery. If you're wondering what 'BOM' stands for, it's Belgian Original Maltbakery. And that bakery bit means that Van Hecke buys in 'white' malt and bakes (roasts) all of the malt for his beers. That's fresh!
On a local level, we are always treated with some of Australia's finest talent and this year Brendan O'Sullivan (3 Ravens), Dereck Hales (Bad Shepherd), Red Proudfoot (Pirate Life) and Michael Leslie (Stone & Wood), as well as homebrew champion gone pro, Kev Hingston (Pact Beer Co.).
The three-day event includes a number of practical, educational and informative seminars, which are often paired with tastings. There is also a Gala Dinner where the Australian Amateur Brewer Championship (AABC) winners are announced. This is accompanied by a beer and food pairing dinner with beers brewed by some of Australia's best home brewers. Club Night celebrates the last night of the Australian National Homebrew Conference, where many of the country's brew clubs bring samples of their finest to share around.
Australian National Homebrewing Conference
Where: Adelaide Festival Centre
When: 13-15 October, 2016
Anhc.com.au
Mitch Steele, Stone Brewing Co.
The world is a better place after Mitch Steele learnt about, and then fell in love with, fermentation through an introductory winemaking class in the early 80s. Chris Thomas caught up with him for a chat in the lead up to the fifth ANHC.
After making wine for a few years, Mitch Steele moved to brewing at a little brew club in California. From there he moved onto behemoth Anheuser-Busch (AB) in Colorado (they're the ones who make Budweiser).
"My goal was to stay five years, then get back into craft brewing, but things went so well, I stayed 14 years," explains Steele.
"I was homebrewing a lot during this time and when the head brewer job opened at Stone, I was intrigued and applied. I already loved Stone's beers and their approach. Stone IPA and Stone Ruination IPA were favourites of mine."
Since joining Stone, the brewery has expanded its volume six-fold. Steele helped plan these changes in capacity, as well as the subsequent growth in brewing staff. His knowledge and experience has also increased analytical capabilities and skillsets in quality assurance and engineering.
"I think my experience at AB taught me about what tools a brewer needs to brew beer on a larger scale with consistent flavour and how to manage a larger brewing organisation with an emphasis on brewing process consistency and beer flavour consistency.
"It's important to all of us that when someone buys a bottle of Stone IPA, they get what they are expecting!"
And since joining Stone the beer list has also grown. No doubt, so has the smile on the face of their hop supplier given so many of their beers are heavy on hops.
"I think my passion and enthusiasm for the kinds of beers we brew at Stone is shown with the beers I've developed since I've been there," says Steele.
"I'm naturally curious and want to explore all things brewing when we come up with new beers. That can mean new hop varieties, new malts, new yeast strains, new processes and even historical brewing techniques and ingredients.
"I love taking an established beer style and twisting it just a bit to brew a beer that is unique, interesting and delicious."
Aside from Stone, Mitch Steele is also a celebrated author through his book IPA: Brewing Techniques, Recipes and the Evolution of India Pale Ale.
The history of IPA is extremely interesting, but so is the revival of the style. But why is this so?
"People are exploring bolder flavours in all kinds of foods and beer is no exception," explains Steele.
"Robust artisanal coffees, breads, cheeses and other foods have really gained in popularity since the 1980s. The days of bland Wonder Bread, canned coffee and American cheese are over. Beer has followed the same path and there are so many great hop varieties out there that there's a lot of flavour experiences one can get when exploring the IPA style."
WHILE IN AUSTRALIA
After visiting Melbourne and Sydney in 2015 when Stone began selling here in Australia, Steele was only too happy to return when invited.
"I'd love to come back and visit some more," he says.
"And it's a homebrewers' conference – these are always fun events, with very passionate and creative people attending!"
While his focus will be on the conference, where he will talk about IPA history, recipe development, and hops, he will also find time for to do what he does best with plans afoot for a collaborative brew.
THE SECRET TO IPA SUCCESS
Steele has the following advice about what to focus on to make a great IPA.
– Make your beer as dry in the finish as possible (sweetness kills hops)
– Don't be timid with hops
– Don't be afraid to take risks and use unconventional ingredients
Bert Van Hecke, BOMBrewing
As a maltbaker and brewer, Bert Van Hecke brings a new tradition to Belgian brewing. He explains his process of kilning his own malts in a modified coffee roaster, then brewing within 48 hours to ensure maximum freshness to Chris Thomas, ahead of his presentation at ANHC 5.
For centuries Belgium has been at the forefront of beer production and quality. It is famed for its Trappist breweries such as Chimay, Orval and Westmalle. Belgium is equally famous for lambics such as Kriek and reviving the wit style with Hoegaarden.
In more recent times, however, the brewing community has been split between tradition and new world as more modern techniques and ingredients have become available. Like the rest of the world, Europe has also been seduced by big punchy citrus hops of the US, while keeping an eye on the past.
Even on the modern side there is another faction.
"There is a modern wave: they can be split into the ones who start to make copies of American beers and others who are trying to bring influences into the classic beers they make," explains Van Hecke.
Beyond this, BOMBrewing pretty much differs from any other brewery in the world. And it's not because of the hops, the yeast or the water as we might expect – it's the malt.
BACKGROUND
Van Hecke plied his craft in a number of different breweries before taking the step to create his own unique brewery. He worked with Orval and Rodenbach to begin with before becoming cellar master at Boon Brewery and then brewmaster at Saint Bernardus. Van Hecke also did a stint with New Belgium Brewery (Fat Tire Amber Ale anyone?) in the US and another brewery in China. All of this prepared him to do something different.
"I learned from each place something important. But the place I learned the most is the big mass volume brewery I've helped with start-up. This brewery start-up was a constant question of: why are we boiling, why are we fermenting like this and not in a different way," he says.
It was in the US that Van Hecke developed a love affair with new world hops and his Total Loss Black IPA is a prime example of how he blends local and new world ingredients.
"This beer contains a lot of European hops, but the new world hops help a lot to boost some specific aroma," says Van Hecke.
But what about the yeast? Is it 'traditional' Belgian yeast?
"For my opinion there is not something like 'Belgian yeast'. Most of the important Belgian yeast has originated from Scotland…I am not such a fan of the phenolic and real bubble gum flavour that is considered as typical Belgian," he explains.
You're probably starting to see which side of the divide BOMBrewing sits. But back to the malt.
THE MALTBAKER
"I am, what I call, a maltbaker. I create specialty malts only for my own beers," he says.
And he's quite possibly the only craft brewer in the world doing this on a commercial level.
"I created the word 'maltbaker', so I guess I am the only one," he says. "The only people who can buy my malt are homebrewers."
Like many professional brewers, it all started with homebrewing and he is aware of the skills he picked up.
"My homebrewing background helped me a lot, still today! Why? As a homebrewer you work with the malts and the hops – you see, smell and feel what is happening. This is something that you are missing when you go into a commercial brewery. So having the background is a big advantage," he enthuses.
We look forward to learning more from Van Hecke at the ANHC. Until then, have a go at one of his old homebrew recipes.