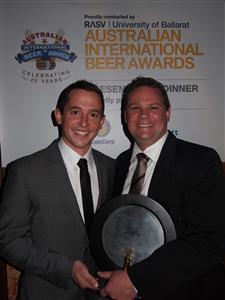 The 20th annual Australian International Beer Awards has named Western Australia's Feral Brewing as Champion Large Australian Brewery for 2012. While he was bemused by the title Large Brewery, head brewer Brendan Varis was delighted to accept the award. Thanking his partner, William, and his wife in particular he then went on to congratulate the Australian craft brewing industry in general. Feral also took home the awards for Best International Pale Ale for the third consecutive year and Best Scotch & Barley Wine, as well as some other gold medals.
In other awards, the ACT's Wig & Pen Brewery & Tavern was named Champion Small Australian Brewery, while in an AIBA first Champion Large International Brewery was awarded to Oregon's Deschutes Brewery and Champion Small International Brewery was awarded to Oregon's Pelican Pub & Brewery.
The Awards Presentation Dinner, conducted annually by the Royal Agricultural Society of Victoria (RASV) in conjunction with the University of Ballarat, showcases premium beer and brewing excellence in the Asia Pacific region. In all 18 Trophies were presented with 10 awarded to international breweries and eight awarded to Australians.
AIBA Committee Chairman and Chief Judge, Peter Manders, said the Awards draws international recognition from the beer industry and showcases the commitment to excellence from brewers.
"Now in its 20th year, the AIBA continues to attract a remarkable number of high calibre entries from Australian and international breweries, with a record 1,344 brews entered from 41 countries this year, an increase of 10 per cent on last year's," Mr Manders said. "The AIBA welcomed 52 judges, all of whom were awed by the quality of entries. Each year sees standards continually improve as brewers push for excellence and exceed all expectations."
Full results:
Labelmakers Group Trophy for CHAMPION LARGE AUSTRALIAN BREWERY

Feral Brewing Company – Western Australia, Australia

GrainCorp Trophy for CHAMPION LARGE INTERNATIONAL BREWERY

Deschutes Brewery – Oregon, USA

Cryermalt Trophy for CHAMPION SMALL AUSTRALIAN BREWERY

Wig & Pen Brewery & Tavern – ACT, Australia

Barrett Burston Trophy for CHAMPION SMALL INTERNATIONAL BREWERY

Pelican Pub & Brewery – Oregon, USA

Gary Sheppard Memorial Trophy for BEST NEW EXHIBITOR

Cervejaria Bodebrown Ltda – Paraná, Brazil

DB Schenker Trophy for BEST INTERNATIONAL LAGER

Hahn Super Dry – Tooheys Pty Ltd

Spiegelau Trophy for BEST PILSNER

Croucher Brewing Pilsner – The Croucher Brewing Co.

Plasdene Glass-Pak Trophy for BEST AMBER / DARK LAGER

Weltenburger Asam Bock
Klosterbrauerei Weltenburg

Barrett Burston Trophy for BEST INTERNATIONAL PALE ALE

Hop Hog – Feral Brewing Company

Weyermann Specialty Malting Company Trophy for BEST EUROPEAN STYLE ALE

Koelsch – Illawarra Brewing Company

MeadWestvaco Trophy for BEST IPA

Caldera IPA – Caldera Brewing Co

GrainCorp Trophy for BEST AMBER / DARK ALE

Doryman's Dark – Pelican Pub & Brewery

Beer and Brewer Magazine Trophy for BEST PORTER

Akkevit Porter – Haandbryggeriet Brewery

Labelmakers Group Trophy for BEST STOUT

Stout – 4 Pines Brewing Company

Cryermalt Trophy for BEST WHEAT BEER

Redback Pale – Matilda Bay Brewing Company

Weyermann Specialty Malting Company Trophy for BEST BELGIAN & FRENCH ALE

Straffe Hendrik Quadrupel – De Halve Maan

Plasdene Glass-Pak Trophy for BEST SCOTCH & BARLEY WINE

Razorback – Feral Brewing Company

Hop Products Australia Trophy for BEST SPECIALITY

Summer Sommer – Garage Project