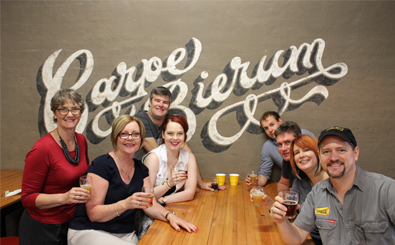 Wayward Brewing Co. has launched its Craft for the Community initiative, which will see the brewery help raise funds and awareness for local charities and community groups.
The brewery's first Craft for the Community event was held yesterday (13 April) in partnership with Cystic Fibrosis NSW to coincide with the charity's annual 65 Roses fundraising month, which encourages community awareness and donation through creative fundraising projects.
Cystic Fibrosis (CF) is one of the most common degenerative conditions in Australia, with one baby born with CF every four days and more than one million Australian carriers of the CF gene. While there is no cure for CF, research continues to be conducted in an effort to fight this deadly hereditary disease.
In support of the 65 Roses initiative, Wayward is brewing a symbolic Rose Kölsch and donating the profits of this special, charity-inspired brew to CF NSW. It's craft beer with a conscience, giving the community the chance to drink for a cause.
Yesterday's brew day saw special guests help brew the charity beer, including, Bryson Vaughn – CFNSW Board Member who suffers from CF, Lauren Rowe – founder of the not-for-profit Gifted Life and first-hand advocate for CF awareness, Clayton Doughty – entertainment relations from Gibson Guitars, a longstanding supporter of CFNSW, and Michele Adair – CEO of CFNSW.
Wayward's Craft for the Community is the brainchild of owner Peter Philip. By getting involved in local charities and raising money for good causes, Philip hopes to help change the perception of beer and breweries.
"Many other countries have a rich tradition of the local brewery being a cornerstone for the community rather than a massive factory run by a faceless corporation. Craft beer is different – it's small, hand-made locally and run by people you know who are part of the community," explained Philip.
"At Wayward, we aim to make local breweries a vital contributor to the community and we encourage local publicans and other craft breweries to do the same".
For the month of May, the Rose Kölsch will be on tap at the Wayward Cellar Bar and in partner venues across Sydney, with all Wayward profits from the beer going directly to CF NSW.
Upcoming Events:
1 May: Rose Kölsch Keg Tapping – Wayward will host an all-day celebration of the charity keg tapping at their cellar bar with live music, food trucks and all charity beer profits going to CF NSW.
6-8 May: Craft for a Cause Weekend – Wayward's partner venues will tap their kegs on Friday, 6 May and a weekend of fundraising will commence, including charity pints and gold coin donations at participating Sydney bars.
25 May: CF NSW Charity Evening – CF NSW is throwing a blowout party at the Wayward Cellar Door, which will include surprise guests, commemoratory merchandise and free-flowing charity beers.  Tickets are available now through Eventbrite and all ticket proceeds benefit CF NSW.