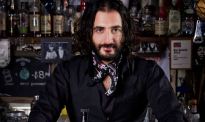 Canadian Club brand ambassador Michael Nouri teaches us how to make a cocktail with two of Beer & Brewer's favourite things…beer and whisky.
Whether starting or ending the night, or somewhere in between, cocktails are a delicious treat when out on the town. While some cocktails can seem complex and a whole lot of hassle, many are very easy to create at home. In fact you probably have the ingredients in the cupboard and don't even know it.
"Quite often people have sugar, they have spirits and they have bitters so there's no reason why they don't have a cocktail right there," said Canadian Club brand ambassador Michael Nouri.
Launched last month, Canadian Club Spiced is a versatile whisky that features nuances of vanilla, all spice, black pepper, cinnamon, clove and juniper berry.
"Canadian Club Spiced has great maple syrup sweetness and some really beautiful aromatic spices as well, so it's really well-balanced, making it incredibly versatile to use in a whole variety of different drinks," said Nouri. "Tropical drinks work incredibly well because the aromatic spices such as cinnamon, nutmeg and vanilla come through to the fore with fruits like pineapple, lemon, lime and even coconut."
As long as you maintain a good balance with the sorts of ingredients you include, then you can be quite creative with what's added to the whisky.
"A real simple drink would be CC Spiced with fresh squeezed apple juice and a squeeze of lemon – it's almost like an apple pie," said Nouri. "Other great ways of using it are with a splash of soda and a squeeze of lime. Quite frankly, it works really well on the rocks."
Michael Nouri's tips to making a killer cocktail
– Keep it simple
– Don't be scared of the alcohol
– Work on balance
– Be creative and have a bit of fun with it
– Don't take it too seriously. They're drinks, they're meant to make you happy so enjoy the process
Walkerville Brewhouse Recipe
Ingredients
60ml Canadian Club Spiced
20ml fresh lemon juice
20ml fresh pineapple juice
15ml simple sugar syrup (1 part castor sugar, 1 part water)
30ml Blue Moon Wheat Beer
2 dashes Australian Bitters Co. Bitters
Method
Add all ingredients to shaker, except beer
Shake hard
Add Blue Moon Wheat Beer
Strain into ice filled beer mug or highball glass
Garnish with fresh rosemary sprig