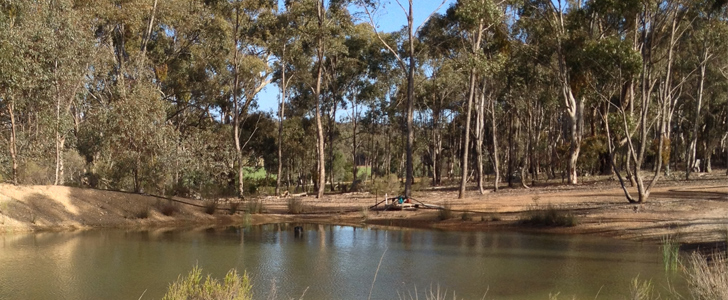 40 Acres Brewing in central Victoria is crafting beers they hope people will enjoy 'til the cows come home'.
The brewing dream of Aussie couple Trev and Jo Mitchell, 40 Acres Brewing is located, not surprisingly, on 40 acres in Sandon, central Victoria, a previously organic certified farm where they currently grow their own hops.
There is no brewery onsite at this stage so head brewer Trev crafts his beers out of Brookes Brewery in Bendigo.
An avid homebrewer since the mid-90s, Trev decided to take the leap into professional brewing after the ex-ROV pilot developed a strong following of beer lovers while on assignment in China.
"Jo is an international school science teacher and I was working FIFO so we have been living overseas (Asia) for the past 12 years more or less," Trev told Beer & Brewer.
"Our last overseas place was a city in China called Ningbo. Ningbo is about three hours south of Shanghai and has a vibrant expat community. A group of expats comprising of Americans, Canadians, Brits, Kiwis and Chinese made suggestions that the beer I was making was on par with some of the great beers they had tasted in their own countries. One bar in particular wanted me to supply it with kegs of my beer.
"We've got eight-year-old twins and decided it was time to let them escape the rat race of Chinese apartment living. We thought what better place than a 40 acre (16Ha) previously organic certified farm in central Victoria. One thing lead to another and around Christmas 2014 I stopped working as a ROV pilot and focused on our kids, our brewing dream and our organic hops.
"Jo is really the brains behind the effort and I just put together the recipes."
While many homebrewers making the leap to professional brewing might start off with a pale ale or IPA for their first commercial beer, Trev decided to enter the market with a challenging 3.7 per cent session IPA.
"I initially wanted to call this beer 'Lunchbox Legend' but was overruled by Jo and our graphic designer Meg Norris who thought I should stick to making beer," explains Trev.
"'Til The Cows Come Home' is an IPA which will, due to the lower alcohol allow people to enjoy a few without searching for a pillow. We've brewed this in a way that the beer still remains full bodied and won't leave people wishing they'd went for a higher ABV alternative.
"We've used a home brewing technique known as 'hop bursting' to add an intense citrus flavour and aroma without the mouth-puckering bitterness. We hope people can enjoy this beer til the cows come home."
As the hop farm expands, the Mitchells hope to incorporate as many of their farm-grown hops into their beers as possible.
"I've been experimenting a bit with rauchbier lately (German smoked beer). Maybe I can put a bit of a new spin on that. Hopefully I can keep the hop bines moist throughout the drought and get a big harvest ale going," said Trev.
In addition to beer, Forty Acres also sells free range eggs and has farmstay accommodation available.