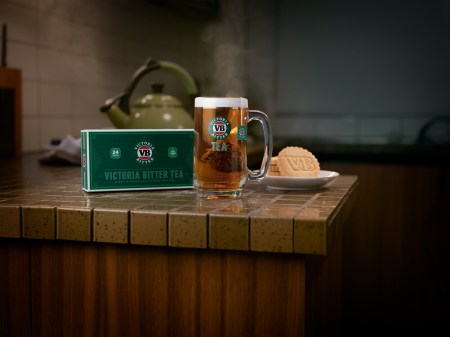 By Andy Young, The Shout
Victoria Bitter is giving Australia's cricket fans an alternative to both English Breakfast tea and late night beers during The Ashes cricket series, with the launch of VB Tea.
The limited-edition tea has been developed using VB's Super Pride hops and black tea leaves and VB says it's the "perfect accompaniment for the countless fans staying up to cheer on Australia as they take on the Poms in England".
Victoria Bitter Marketing Director, Chris Maxwell, said: "We know how much Australians love cricket, and the long hours and sleepless nights they put themselves through whenever there's a series in the UK.
"So, we wanted to reward their hard work in supporting Australia by creating the perfect alternative to English Breakfast to sip on, as we go to battle with the Poms in what's sure to be a hard-fought series. After all, there's no time to snooze – especially if the Poms are losing."
VB Tea is available through Victoria Bitter's merchandise store at $10, excluding delivery, for a limited time.