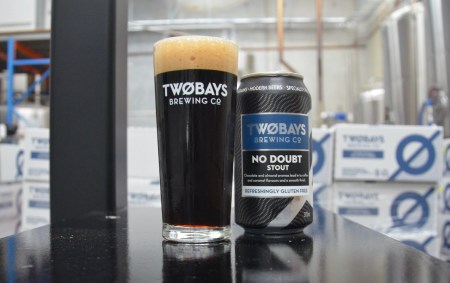 Australian gluten-free dedicated brewery TWØBAYS continues to broaden its offering with the release of the gold medal winning No Doubt Stout.
Following April's announcement the Mornington Peninsula brewery was bringing a lager in to its core range alongside their Pale Ale, XPA and IPA, they have now released the 6.2% No Doubt Stout as their tenth limited release – but first dark beer. In May it was awarded a gold medal at the Australian International Beer Awards.
What we thought about it
Layers of malt-like complexities in both aroma and flavour deliver a Stout to be enjoyed – whether you're going gluten free or not. Pouring pitch black with amber hues, the aromas immediately remind of chocolate-coated scorched almonds with a dusting of ash and warming alcohol. Some moreish dark fruit esters and a touch of floral hop bitterness make an appearance among flavours of roasted espresso and dark chocolate. The body is smooth and full while it finishes dry and with good length.
What the brewery said about it
Following enormous demand from its fan base, TWØBAYS brewed the Stout for national release with a Vienna, Caramel and Chocolate-roasted millet base, and East Kent Goldings hops. It presents a smooth palate, finished with rich lingering caramel, raisin and coffee flavours.
"I've spent five long Victorian winters dreaming of this beer since being diagnosed with Coeliac Disease," CEO and founder Richard Jeffares said. "And the fact that it carries a gold medal is the icing on the cake. The awards are really an indication of the quality and consistency of our beers right across the range, and we're so grateful to all of our supporters who continue to explore the world of gluten free craft beer with us.
"We called it No Doubt because avoiding gluten in food and drink is often shrouded in doubt, and we want people to savour every drop of our beer, safe in the knowledge it's completely gluten free. The same goes for our dedicated taproom where everything is gluten free."