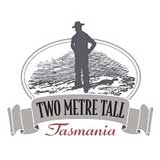 If you're a fan of a proper sour beer, then we can heartily recommend getting online and heading to the Two Metre Tall website, where Jane and Ashley are currently shipping the Derwent Aromatic Spelt Ale.
Brewed using a mix of hops, many of them grown on the property at Two Metre Tall, including heritage varieties Fuggle and Bruny Island, the beer is naturally soured by leaving the warm mash for 36 hours, allowing the microflora to flourish and give the beer its characteristic sour notes.
The Derwent Aromatic Spelt Ale is available in 500ml or 750ml bottles, and Two Metre Tall will ship to just about anywhere in Australia. Head along to the website at 2mt.com.au, or go directly to their online shop.