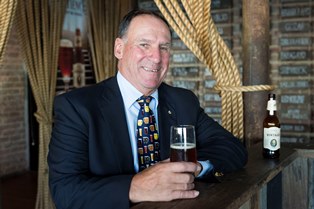 GlennCooper
Coopers Breweryhas released itsspecial edition 2014 Extra Strong Vintage Ale, the fourteenth vintage in its special edition series.
Coopers' Managing Director and Chief Brewer Dr Tim Cooper said Vintage Ale 2014 demonstrates the same high standards as previous vintages, maintaining the essential hop-driven characteristics expected from the brew.
"This year's selection of hops has been given careful consideration to ensure the best combination of bittering and aromatic varieties," Dr Cooper said.
"Four varieties – two Australian and two American – make up the 2014 Vintage Ale. American variety Bravo provides the foundation for the bitterness of the brew, while Galaxy and
Ella from the hop-growing regions of Tasmania provide fruity aromas and flavours of peach, grapefruit and passionfruit. There are also layers of spicy notes to complement the citrus and tropical notes.
"The other American variety, Cascade, harmonises and emphasises the floral and fruity undertones arising from the Tasmanian hops and from our distinctive ale fermentation."
The alcohol content remains at 7.5% ABV, retaining Vintage Ale's title as the strongest beer brewed by Coopers.
Coopers' National Marketing Director Cam Pearce said winter was the perfect time to enjoy Vintage Ale.
"Limited production and strong demand in the market saw last year's run of Vintage go quickly," he said. "We encourage Vintage lovers everywhere to stock up early so they don't miss out."
Coopers Extra Strong Vintage Ale was first released in 1998, with further vintages in 1999, 2000, 2002, 2004, 2006, 2007, 2008, 2009, 2010, 2011, 2012 and 2013. The beer can be consumed immediately, or can be stored in cool conditions to mature over a period of time.
The 2014 Vintage Ale is priced from around $80 per carton, or around $25 per six-pack of 355ml bottles.
The Vintage release coincided with Glenn Cooper retiring from his executive role at Coopers Brewery. Cooper, 63, the Director of Sales at Premium Beverages, will continue as Chairman of Coopers, a position he has held since February 2002.
Coopers Managing Director, Dr Tim Cooper, said that Glenn played a key role in creating consumer engagement for Coopers and its brands during the strongest period of growth in the company's history since before the Depression.