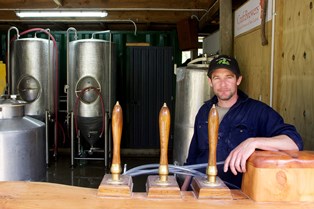 Townshend Brewery's Martin Townshend
Nelson-based Townshend Brewery has been named New Zealand's Champion Brewery at the 2014 Brewers' Guild of New Zealand Beer Awards in Wellington.
Townshend beat stiff competition, with a record 670 beers from 84 breweries entered across 15 different categories this year. In total, 74 New Zealand breweries entered the awards.
Founder and brewer Martin Townshend said the award was the "icing on the cake" in what has been an excellent couple of years for the brewery.
"Being named New Zealand's Champion Brewery is a massive accolade. It seems like only yesterday that I created my first brew in the shed,"he Townshend.
"Like most things in life, the secret to success is passion, hard work and dedication to the task. I still enjoy brewing now as much as I ever have and I think most brewers will tell you the same. That said, it's huge to be recognised and this award is the best possible recognition a brewer could get."
Founded in 2005, Townshend Brewery remains a one-person operation, producing approximately 50,000 litres of beer per year. The 650 litre brewery is still located at the Townshend family home in Rosedale, near Nelson.
In addition to being named Champion Brewery, Townshend was also awarded the Champion New Zealand Manufacturer trophy and won the New Zealand Specific Style category for his Oldhams Tap Riwaka Pilsner, while 12 of his other brews also earned medals.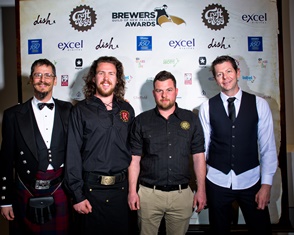 The team from Renaissance Brewing
The Boston Beer Company claimed the Champion International Brewery award while the Morton Coutts Trophy for Innovation or Achievement went to Steve Nally from Invercargill Brewery. Nally conceived the idea of packaging low carbonated draught beer in 20 litre bags to be used in bars with traditional English style hand-pumps. Media/Beer Writer of the Year went to Beer & Brewer contributor Neil Miller.
Competition manager Craig Bowen said the Awards capped another vintage year for New Zealand brewing.
"Each year, more New Zealanders are getting into beer and cider brewing. And each year, the task of judging at these Awards becomes much harder," he said.
"Whether it's a one man band or the larger more established breweries, New Zealand is enjoying a golden period in terms of the variety and quality of beers produced. That's what the Awards are about – recognising and celebrating excellence in our profession."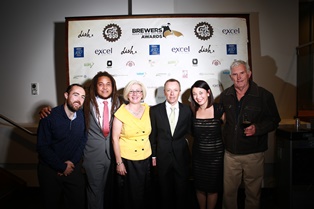 The team from Sprig and Fern Brewery
Now in its eighth year, the Brewers' Guild of New Zealand Beer Awards is an international competition, with entries from throughout New Zealand and the world. All beer entries were rated against a style guidein each category fortheir aroma, colour, bitterness, flavour and presentation. A beer's overall balance of characteristics was judged by a panel comprising 25 national and internationally qualified judges.
A total of 61 gold, 121 silver and 169 bronze medals were awarded this year. For more information, including a list of all medallists, click here.