Frenchies Bistro & Brewery has opened its doors in the growing foodie hub of Rosebery, bringing Parisian bistronomy to the suburbs of Sydney.
The venue combines the talents of chef Thomas Cauquil and brewer Vincent de Soyres, two 'Frenchies' who now call Australia home.
The credentials of the chef Cauquil – with experience working in Michelin-starred restaurants in Europe – are matched by de Soyres, who started brewing at the Ninkasi brewery in Lyon before moving to Australia, with a stint at Little Brewing Co. in Port Macquarie before becoming Head Brewer at the Flat Rock Brew Café in Naremburn.
Frenchies has eight beers on tap ranging from an easy drinking Kölsch to an Old World IPA made with new European hops; the Comet Pale Ale which showcases the somewhat forgotten Comet hop variety, as well as Rye the Red Dog – an homage to Australia that is made using Aussie hops, malt and yeast.
And just as Cauquil's food menu will change with the seasons, there will also be seasonally produced beers, kicking off with Laperouse, a golden 'Biere de Garde' with malty, white stone fruit and spicy flavours.
Named after the French sailor who travelled from Kamchatka, Russia to Australia – and the nearby suburb of the same name – the name of the beer also reflects the birthplace of the Frenchies concept, which the duo devised during a two-month, 700km adventure on the Kamchatka peninsula.
Located within The Cannery in Rosebery – in the same complex that houses the Archie Rose distillery – Frenchies adds to what is a burgeoning food and drink hot spot.
This prime location has already resulted in a collaboration beer with their neighbours at Archie Rose, which debuted at GABS earlier in the year; cleverly named 'Kiss from A. Rose', the beer combines Frenchies' Laperouse Golden Biere de Garde with Archie Rose's White Rye Spirit, resulting in an aromatic golden ale that packs quite a punch at 10.2% ABV.
There's also a range of French bar foods to snack on while sipping through the range of beers, including a selection of charcuterie, smoked fish and cheese boards.
"We want people at the bar to feel that they are a part of the production of what they are drinking," de Soyres said. "We have designed the space to feel busy and vibrant, and want to encourage conversation between the staff and guests."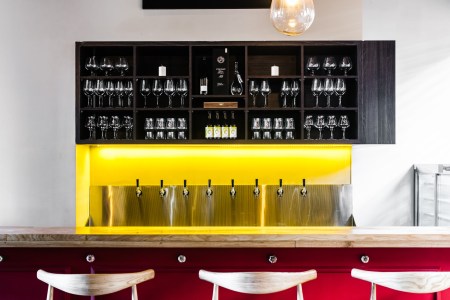 With the ground floor of the venue housing the brewery and bar, the 40-seat bistro is located upstairs. In a special touch, de Soyres' father hand-crafted the table tops, bar and floor from French oak felled from his very own forest in the Loire Valley.
The bistro menu focuses on seasonal cuisine, delivered at an affordable price – expect it to change daily, with dishes reflective of available produce and Cauquil's creative inspiration; typical dishes include bone marrow and beef stew, Lyon sausage poached and cooked in brioche, roasted lamb saddle and Balmain bug in puff pastry.
In addition to de Soyres' brews, there's also a selection of Australian and premium French wines, as well as a couple of rare cognacs – including a limited 1904 vintage of which there's only a handful of bottles remaining in the world.