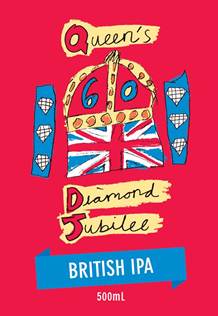 Inspired by their recent trip to the motherland and all things British, the team at Red Hill Brewery have created a celebratory Diamond Jubilee British IPA.
Perfect for sipping while watch re-runs of Cliff Richard shaking his assets at Her Majesty, this ale is based on the original recipe of one of the earliest IPAs sent to fortify the British in the colonies in the early 1800s. Brewed with plenty of hops, this British IPA packs 5.5% ABV (that's big for the British) and is certain to survive the long sea voyage back to our Liz for her to toast her Diamond Jubilee.
Featuring a 500ml English-style bottle and the official emblem of the Diamond Jubilee, this beer is one for the connoisseur.
As this is a true "Real Ale" it is cask-conditioned and served from traditional English casks using the handpump at the brewery – so if you're near the brewery this long weekend get into it for the launch of this new IPA.
Bottles are set to drop at stockists by 21 June, so check online for where you can buy a great bit of Jubilee memorabilia (much better than a commemorative teacup).
Also out this week is Red Hill's famous Imperial Stout, the perfect style for winter drinking.