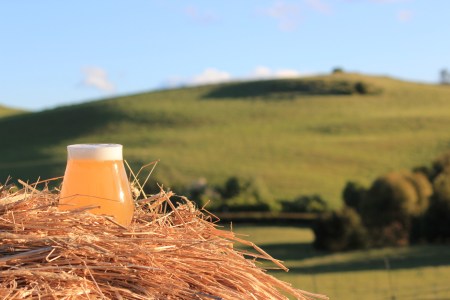 For the third installment of our Regional Brewery Series, we are heading to Tasmania to explore the breweries that thrive in the mountains, valleys and coastlines of this rugged island.
The state itself is largely rural: Hobart is Australia's least populated state capital, while most of the western half of the island is made up of nature reserves. There is a strong agricultural tradition in Tasmania, with an abundance of hops and barley grown. And while Hobart itself has plenty to offer the thirsty craft beer enthusiast (with at least five breweries within the boundaries of the city), Beer & Brewer is going to explore the rest of the island from the Huon Valley in the south west to the eastern coast and the northern city of Launceston.
Local produce
Tasmanians have a vivid pride in their state – businesses are often heralded as Tasmanian-owned rather than Australian-owned. This focus on localness is especially useful and important when it comes to brewing, as there is a strong heritage of hop growing on the island, not to mention other crops and potential ingredients. In addition, Tasmania's burgeoning whisky scene has provided further opportunities for collaboration and the creation of barrel-aged beer.
On Bruny Island (the size of Singapore, but with a population of 620 compared to Singapore's 5.6 million), the links between local produce and producers are even tighter, as the island's brewery is part of the island's
main cheese producer. Bruny Island Cheese and Beer Co. relies heavily on passing tourist trade, but it also focuses considerably on using local produce and engaging with its local community.
"Locally grown ingredients and an eye towards Tasmania's seasons and moods guide us down an unconventional path," says Evan Hunter, who founded the brewery at the cheesery in 2016. "We are driven to create intrinsically Tasmanian flavours, and the rare opportunities for collaboration offered by a brewery and cheesery operating right next to each other are explored in the production of both beer and cheese.
"Our own farm, Glen Huon Dairy Co., began operating in 2017 and will eventually enable us to grow some of our own ingredients."
The importance of tourism
Tasmania has been enjoying something of a tourism surge of late, featuring heavily in travel guides and airport advertising, and this has had an enormously positive effect on the island's overall economy, including the brewing scene. Where there are biking and hiking trails, brewers can take advantage with a strong beer and hospitality offer, and many have.
"We are in the ideal latitude to grow hops which greatly enhances the visitor experience during the six-month growing season (September-March), which also coincides with our busiest visitation period," says Willie Simpson, co-founder of Seven Sheds Brewery, located in Railton in the north of the island.
"We've also benefitted from the growing popularity of Tasmania as a tourist destination and the rise in interest in niche, agri-tourism in general."
However, unlike much of the rest of Australia, Tasmania is not a place with a reputation for being bathed in sunshine all year. In winter, it gets cold,
really cold, and that tourism trade can dwindle, making it a significant obstacle for brewers.
"Where we are located, we have a pretty reliable stream of tourists through summer," says Chris Cairns, head brewer at Little Rivers Brewing on Tasmania's north east coast. Our biggest challenge is winter. It's really tough; you go so far in the red and spend all summer trying to get back in front, but it's not only our industry which suffers through winter, so we are all in the same boat.
"The north east of Tasmania has gone through a lot of industry closures such as forestry and vegetable production, and the closure of two large sawmills just before we started the brewery, so there wasn't a lot of confidence in the area for businesses to start up.
During those leaner months (and the rest of the year as well), the local community plays a hugely important role in sustaining and supporting Tasmanian breweries. And the breweries endeavour to return that support through sponsorship and local initiatives.
Read the full article in the Spring issue of Beer & Brewer. To subscribe, click here