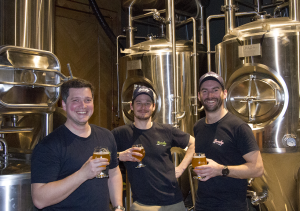 The Australian craft brewing scene has been growing apace, with new breweries starting up or finding homes all the time (see our New and Up & Coming Breweries feature). And the best of the bunch is Burnley Brewing in Burnley, Melbourne.
"We couldn't be happier," says founder Neil Mills. "We've got a really lovely team of staff who believed in
the product and got on board wholesale and put a lot into it, and that's come together really well."
Mills has been brewing since his university days and then, after installing equipment at other breweries
with Spark Brewing, he decided to take the plunge and open his own. The venue opened in November 2017, with a rotating selection of beers made on a Spark K500 stacked brewhouse with four 1,000L fermenters.
"The whole idea was fresh from the tank," says Mills. "Keep it simple and make the beers fresher. It took us about six months to get started – that was a council issue. It was certainly more work than I anticipated! But it's a nice kind of work.
"We don't care about brand flash points. It's quality service, quality beer and consistency – presenting the beers in a nice way. It takes time to brew a great lager. It makes sense to accompany it with a nice meal made by great chefs in nice glassware in a nice venue. The whole thing is about the finish."
The beers have been selling so well that to keep up with wholesale demand, a second brewery has been
constructed in a warehouse. The next few months should see a collection of new lagers in cans coming out. And the area itself is also seeing more brewing growth.
"I hear another two or three breweries are in planning in our neck of the woods," says Mills. "It will be a nice little hot spot for brewing. The more the merrier."