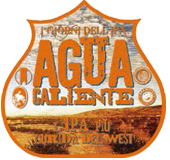 A few months ago the team at Birra Italian had the very difficult task of witnessing a once in a lifetime collaboration event between four of Italy's best brewers: Birra Del Borgo, Toccalmatto, Brewfist and Opperbacco.
The incredibly popular breweries came together to make a traditional Wood-aged Hoppy IPA (more hoppy than usual?). The video of the day can be seen here – something to watch as you sip you limited edition bottle of their Agua Caliente.
The tasting notes on the brew read thus: "An intense golden colour, matched by an even more intense flavour and full body. A high IBU (about 70) is well-balanced by the sweetness of the malts. They selected British hops in homage to the tradition. They first added hops to the boil in the normal way and then to give it an even bigger hop kick they finished with 'hop-backing' (i.e. running the beer through fresh hops into the fermenting tanks). The beer has matured in wood barrels to mirror the effect of the long journeys that IPA's used to travel on their way to the colonies. Dry-hopping after fermentation adds freshness and softness."
Contact hopheads@birraitaliana.com.au for more info on where this beer can be tracked down.