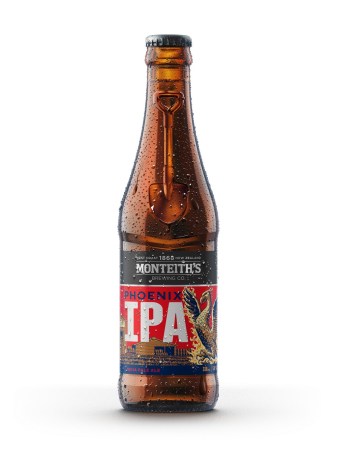 After a successful, limited release in keg, Monteith's is launching Phoenix Indian Pale Ale into the permanent keg line up and extending the range into 330ml bottles across the trade.
Originally launched in New Zealand in 2018 to honour a century and a half of quality brewing on the NZ West Coast, it is now the number one craft sku in New Zealand supermarkets.
Brewed for the right now, this IPA is made with a fusion of American Simco, Chinook and Citra hops.
Monteith's Brewing Co. Head Brewer Rob Marshall says the team wanted to continue to experiment with new flavours and combinations, allowing friends to explore new varieties in the range.
"We're really excited about Phoenix IPA hitting the shelves in Australia. It's brewed with a clean crisp malt base and the hops shine through with a heady aroma of pine and citrus.
"On the first sip, you'll experience the sensation of freshly cut grass complemented by the subtle flavour of passionfruit, with a touch of spice to round off this brew's unique nature," Marshall says.
With the introduction of a second IPA the Australian range, Monteith's invites enthusiasts to explore more options within the range and offers yet another reason to indulge in their family of beers.
IPAs are quickly becoming a popular beer of choice for beer consumers in Australia with the style following similar growth trends as have been seen in the US, New Zealand and other strong global craft beer markets.
So, sit back and enjoy the brew which nods to the original Phoenix Brewery, established by Stewart Monteith in Reefton on the NZ South Island's West Coast back in 1868.
Monteith's Phoenix IPA will be sold in 50L kegs and 330ml x 6 and 24 packs (5.0% ABV) and is available at liquor retailers around the country. For more information, please contact your local Drinkworks representative, call our contact centre on 0011 64 800 102 337 or send an email to marketing@drinkworks.com.au