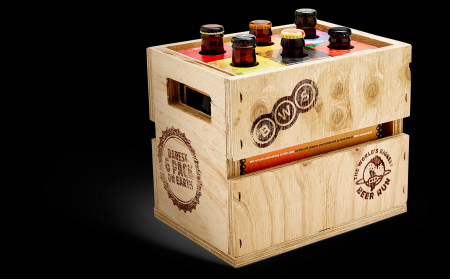 BWS has gone on "The World's Biggest Beer Run" to create a limited edition six-pack of beers from around the globe.
BWS collected beers from six breweries, which will be available at selected stores from Wednesday 18 October.
After setting up a series of Instagram polls, BWS set off on a 50,000km journey, travelling across three continents to bring six beers back to Australia.
"BWS is all about going to great lengths for its customers, and nothing rings more true than this whereby we select our ranges to differ across our 1350 stores," Ken Russel, head of marketing at BWS, told Beer & Brewer. "We have customer-first ranging which means that a stores range will be different based of the local tastes and preferences to that area. We wanted to dramatise how important customer feedback is to BWS as a business, by demonstrating the lengths we will go to for our customers need. We asked them what they wanted… and so we went to get it for them.
"Selecting the breweries in each country was a pretty thorough process, but we started this search by asking Australians what they wanted. Alongside this, we had to ensure that the beers tasted great, that they had a great back-story and that all were unique unto themselves. We aimed for an intricate mix from across the globe."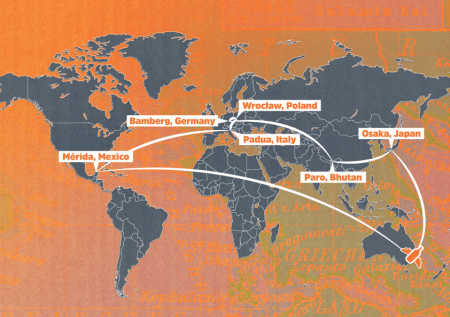 The beers included in the six-pack include:
Weizen from Minoh Brewery in Japan: "We found this Osaka instituion in a small suburb north of the city. Head brewer Kaori Oshita has a strong belief that craft beer = local beer. This gentle South German-style beer delivers a fruity banana bonanza to the nose and a crisp, refreshing flavour to the mouth. If you can't find a spot next to a waterfall in a Japanese national park, at least try and find a sunny spot outside to drink this one."
Bhutanese Red Rice Lager from Namgay Artisanal in Bhutan: "We found this hidden gem 2,195m above sea level in Paro, which happens to be only 33m lower than Australia's highest mountain. This traditional lager is brewed with Bhutanese red rice, a staple served with pretty much every meal in Bhutan. Along with a unique local twist, you'll get a clean hops character complemented by smooth malt, caramel and toffee flavours."
Aecht Ochlenferia Rauchbier from Schlenkeria in Germany: A stroll through Bamberg's Old town is about as close to time travel as you can get. And that's before you've even tasted its famous smoky beer that's been brewing the same way for over 500 years. One of the last traditional smoked beers in the world gets its flavour from the intense, aromatic smoke of beechwood logs exposed to the malt."
Crumble Sour IPA from Stu Mostow Brewery in Poland: "This brewery's mission is to use beer to build bridges between people, cities and countries. Together with Wylam brewery, these Polish wizards have conjured up a sweet and sour IPA using peach and pineapple purée aged with roasted coconut flakes, hazelnuts and dry vanilla."
Belgian Blonde Ale from Hermano Republia in Mexico: "This 100% Yucatan owned brewery has a cult following of passionate locals who clearly agree with brewing master Gerado Cárdenas' idea that anytime is a good time for Patito. An easy drinking Belgian blonde that's point of difference is the fact that it's brewed from the water of the Yucatan region – water the Mayans believed was a sacred gateway to the afterlife."
Barrel Aged Sainson from CR/AK in Italy: "The dedicated and ambitious team of Italians at CR/AK have only been going since 2015, but have already claimed their stake as Italy's go-to hot spot for craft beer – artfully combining both old and new ways of craft brewing. Aged for over seven months in a combination of 60% Scotch Whisky barrels and 40% Caroni Rum barrels means you'll never find two saisons that taste the same. Golden amber i colour with an aroma of burning peat on the nose."
"The beer concerned is BRW01 one of our very first crazy barrel beer," Claudio Franzolin of CR/AK Brewery told Beer & Brewer. "We used a very special yeast to brew a big saison characterized by big fruity esters and then we aged it for 7 months, 60% in Scotch whisky barrels and 40% Caroni rum barrels.
"After that time we left it in bottle for three years to create the complex and rounded flavor that you can actually small when you open it.
"We are a small independent craft brewery based in Padova. In our brewery hops are the king and treating them with respect is of the utmost importance. We are committed to let you drink our beer fresh just like you're drinking it in our brewery, always.
"We have always been confident about the need for innovation and our limited releases of the CANTINA's beers are the perfect mix of tradition and innovation aging away in our collection of rare Italian wine and spirit barrels."
"We did undergo a rigorous QA process ahead of the final selections to ensure we had all of the information we needed ahead of the World's Biggest Beer Run," adds Russel. "Needless to say it has been a mammoth effort and (of course) not everything went to plan. We got there in the end and we are elated to have the beers finally home safe on Aussie land."