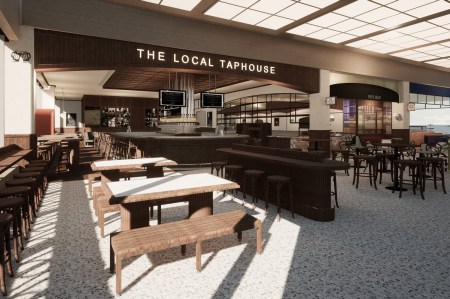 Come October travellers through Melbourne Airport can bide their time in two of that city's craft beer institutions with the news Stomping Ground Brewing Co's sister venue The Local Taphouse will soon call the Qantas Terminal home.
The arrival of the St Kilda venue's offshoot follows Stomping Ground establishing Australia's first airport brewery in Melbourne's Terminal 3 building back in February 2020. Both airport venues are partnerships between Stomping Ground Brewing Co and global hospitality and entertainment company Delaware North.
Stomping Ground's hospitality director Justin Joiner told Beer & Brewer that since their brewpub landed at Terminal 3 there's been a push to see local producers and suppliers showcased at the airport. He said they jumped at the chance when the opportunity arose to establish another venue as the bounce back in passenger numbers enabled confidence for airport operators.
"So many people have such a special place for The Local in their heart," Justin said. "There's something about that venue that connects people, so to have it out at the airport and doing what it does in St Kilda – with showcasing the best beers we can get hold of along with good food and well educated staff – is super exciting."
The Local Taphouse at Melbourne Airport will primarily champion Victorian breweries across its 60 taps alongside cocktails, spirits and wines. The bar and restaurant will be able to cater to 200 people whilst there will also be a takeaway fridge to grab beers to go.
Justin said "it won't be a watered down version" of the St Kilda venue that's been continuously operating for over 15 years, and that they'll "bring almost everything" the European-style pub is known for to the airport.
"It's not going to necessarily have a whole bunch of locals that can walk there like they do in St Kilda. But in time I think it will see regular flyers coming in and feeling like a local.
"Our beer appreciation group Ale Stars just celebrated its 15th birthday so we'll have an offer for those members out there – so they feel like it's an extension of their Local.
"From a beer perspective, it will be more exclusively Victorian than what we do in St Kilda – which was part of the brief from the airport and what they wanted to represent out there.
"We're still going to get the best Victorian beers we can get hold of and rotate them through the taps. We'll also do showcases of various breweries and get their limited releases.
"Part of the great attraction of St Kilda is that the beers are ever changing and we want to try and replicate that out there as well."
In a media statement, Delaware North's managing director Gary Brown said: "We're thrilled to be collaborating with The Taphouse/Stomping Ground team again and know that together we're going to deliver another exceptional hospitality experience, this time in bringing the best of Melbourne to the Qantas terminal at Melbourne Airport."