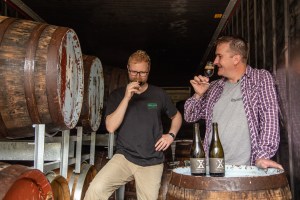 Brad Rogers, co-founder of 10 year-old Stone & Wood Brewing Company and the winner of the 2019 Beer & Brewer Lifetime Achievement Award, was fascinated by brewing from a young age, but he actually cut his teeth in the wine industry.
He studied Oenology at Roseworth Agricultural College in Adelaide in 1990, but in 1994 he was offered his first job in brewing – at the now extinct Kent Brewery, part of Carlton & United Breweries.
"Once in brewing I knew this was where I belonged," he recalls. "I am fascinated by the brewing concept of bringing together simple raw materials – water, malt, hops and yeast, to create the final brew. I also love the immediacy of brewing beer. You only have to wait weeks to drink the fruits of your labour – not years."
With Jamie Cook and Ross Jurisich, Rogers reinvigorated the Matilda Bay Brewing Company brand, but the three wanted to get into the growing world of small, independent breweries. So, in 2008, after two and a half years of meticulous planning, they set off for Byron Bay and set up Stone & Wood Brewing  Company.
"It was the best thing I've ever done," says Rogers. "In 2005, it became clear that there was a growing number of beer drinkers willing to shift to more flavoursome products and there was an untapped thirst for knowledge about beer and interest in exploring beer and all its forms and styles.
"I'm most proud about the simple fact that the three of us left great jobs and backed each other that we could get to where we are today. The other great aspect is our people and our culture. Our people right across the business are so important to me, and it's very satisfying to see our team grow and develop and take on new challenges as our small craft beer business continues to grow."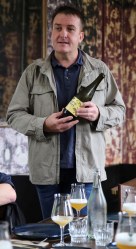 A decade after its founding, Stone & Wood now has over 120 employees and is Australia's second largest independent brewing company (behind Coopers). It is a major player in Australia's vibrant craft brewing scene, despite a relatively small portfolio of beers compared to the wide array of the modern craft brewery. And yet what Brad is perhaps most famous for is creating a whole new style of beer – Pacific Ale. So how did that come about?
"The Stone & Wood philosophy, across all of the business, is to keep things simple. I always wanted to use the Galaxy hop, so I just had to work out a way to use it cleverly to get the most out of the tropical fruit, passionfruit character I knew and loved about it. The Pacific Ale makes me happy every day. It's such a great beer to brew and enjoy."
In 2012, Rogers became the founding chairman of the Craft Beer Industry Association, and was also chief judge at the AIBAs. He then co-founded Fermentum – a collection of breweries and cider makers
– of which he is currently executive director and head brewer. So from this heavily involved vantage point in Australian craft brewing, what has Rogers witnessed?
"The world keeps getting smaller, and the ease with which craft brewers can communicate and help each other is as healthy as it's ever been," he says. "With this in mind, the quality across small independent craft brewers has continually improved. Craft brewers continue to lead the way with true innovative thinking, both directly with their beers, but also in the way they run their businesses. There is a real sense of community and inclusiveness across brewers and their breweries, which I believe fuels the industry.
"I'm extremely humbled by this award! I need to thank my co-founding partners, Jamie, Ross and Tom, as it's very much a team game. You can't do what we've been able to do as an individual. And a huge thanks goes out to the entire Stone & Wood and Fermentum team who help make going to work such a joy each and every day."