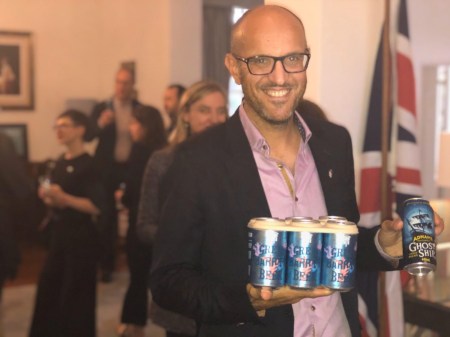 The Good Beer Co has launched a strategic partnership with British brewery Adnams to create a range of beers under The Good Beer Co brand in the UK in 2020.
The partnership was announced at an event held at the Canberra residence of Vicky Treadell, British high commissioner to Australia.
James Grugeon, founder of The Good Beer Co, met Adnams CEO Dr Andy Wood 12 years at a Cambridge University Climate Change Lecture. In 2017, The Good Beer Co collaborated with Adnams to create Great Get Together Pale Ale in support of the Jo Cox Foundation in the UK market.
The two breweries will now work together to create and launch a range of new products in the UK. Great Barrier Beer Australian Lager will be the first product made available, with the Australian recipe and ingredients coming to the UK with the beer.
The beer will fund ocean conservation projects in the UK and Australia, as well using compostable (and marine life-friendly) six pack holders as an alternative to plastic in the UK market.
Adnams was founded in 1872 in the English county of Suffolk, and has focused heavily on sustainability and grain-to-glass stories in its brewing in recent years. It's Ghost Ship 0.5% is available in BWS and its Ghost Ship 4.5% is sold in Dan Murphy's and around the world.
"I have known The Good Beer Co's Founder James Grugeon for a number of years and we enjoyed working with him to brew The Good Beer Co's Great Get Together Pale Ale for the Jo Cox Foundation in 2017," says Wood. "James is passionate about business doing the right thing and seeks to lead from the front. And that is important to us as a business too – we are looking forward to what we can achieve together."
"Being from the UK originally, I've been enjoying Adnams beers since I had my first pint of Southwold Bitter," says Grugeon. "Adnams have a trusted reputation for leadership on sustainability and they are an innovative and values driven company that genuinely cares about their local communities and protecting our environment.
"They are a perfect fit for The Good Beer Co and our mission to do good with good beer. We can't wait to start working with them in the UK – starting with a UK twist on our Great Barrier Beer Australian Lager.
"The Good Beer Co exists to start conversations that lead to action on important issues like climate change, the protection of our Great Barrier Reef and ocean conservation – over a good beer.
"By taking our approach to the UK we will talk to even more people, starting with British tourists who have already enjoyed a cold Great Barrier Beer Australian Lager on our beautiful Great Barrier Reef!"