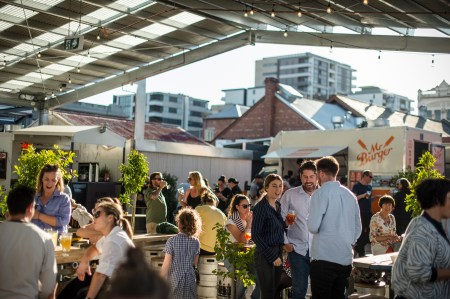 4 Pines has opened a new beer garden, brewery and food precinct in the Melbourne suburb of Brunswick.
This represents 4 Pines' first step into the city. The brewery itself is expected to become operational in early 2020 and will be brewing the core range, as well as Keller Door beers.
The entire 4 Pines core range will be on tap, as well as some of the brewery's revolving Keller Door beers.
It has the capacity for 450 people and was designed by Breathe Architects.
4 Pines Welcome to Brunswick features recycled and reclaimed materials in its furniture and fitout. Wooden seating and scaffolding can be found throughout the venue, while the walls will feature artworks created by local artists.
Live painting sessions will be taking place in the coming weeks.
The venue will host up to four food vendors, which will rotate daily, with vegan, vegetarian and gluten-free options always available. Dogs will always be welcome.