The Good Beer Co has launched a campaign called 'A Good Beer Always Helps' which allows people to gift a four-pack of beer to essential services workers in Australia.
Teaming up with independent craft breweries in every state across the country (except Northern Territory), The Good Beer Co's campaign will see four-packs of local beer delivered to workers behind the scenes and on the frontline of the COVID-19 pandemic, along with a message of support.
"The good people working in our essential services have always been there for us and, right now, they are who are keeping our country going. 'A Good Beer Always Helps' is about showing them how much we appreciate them," explains James Grugeon, founder of The Good Beer Co.
"There are so many essential workers on the front line – nurses, doctors, health administration, pharmacists, allied health, ward assistants and cleaners, police, fire and ambos, aged care facility and home care workers; school teachers; supermarket workers; and many other providing frontline services right now and they need to know we appreciate everything they are doing for us."
By donating a four-pack, people will also be helping a local, independent craft brewery in the state where they live. Craft breweries need support during this crisis, as with taprooms, pubs and bars all shut-down for health reasons, their revenue avenues have been slashed.
"The campaign is a labour of love from breweries and businesses like The Good Beer Co and our brewery partners who are doing it tough, to our essential services workers," adds Grugeon. "None of the partners in 'A Good Beer Always Helps' will be making a profit.
"The Good Beer Co , Pozible and partner independent craft breweries are only covering costs – so Australians who donate can be assured their donation is going straight to our essential services workers."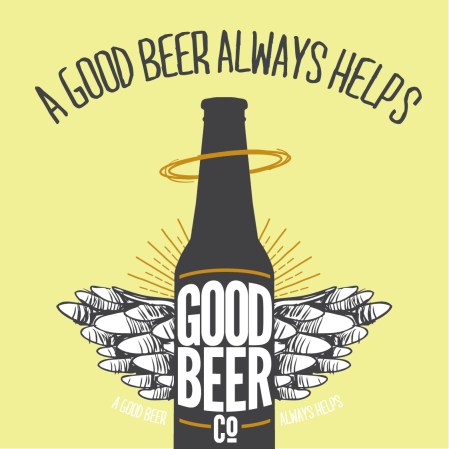 Breweries involved in the scheme include Newstead Brewing Co, Sparkke, Modus Operandi, Capital Brewing Co, Stomping Ground Brewing Co, Otherside Brewing Co, Van Dieman Brewing and Sobah Australia.
"Sparkke is a for-purpose beer company, so when James approached us and asked us if we would like to be involved we jumped at the chance," says Kari Allen, co-founder of Sparkke.
"To be able to say thank you in a tangible way to health workers is really important right now. Yes, we're doing it tough at the moment – but being part of an effort to express our gratitude to the people keeping us safe, is really good for our morale. And of course, the sales support is just so valuable to us."
'A Good Beer Always Helps' is working with unions and other organisations to ensure that the beers – and the messages of support and gratitude – make it to essential services workers.
"We're asking Australians to show our essential services workers we love their work, by shouting them a good beer," adds Grugeon. "It's a win-win because we'll also be supporting local independent breweries too."
Essential services workers can register to receive a 4 pack and message delivered to their home from a local craft brewery by going to https://thegoodbeerco.com.au/good-beer-always-helps
At the time of writing, 1,247 essential service workers have registered and 431 four-packs of beer have been donated.
Australians can donate a 4 pack and leave a message of support for our essential services workers across the nation now at: https://bit.ly/agoodbeeralwayshelps