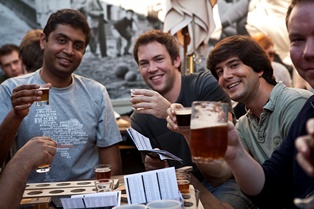 Beer lovers enjoying the goods at the Local Taphouse
Craft beer's popularity in the United Kingdom is on the rise, so the Melbourne and SydneyLocal Taphouse bars will be showcasing the best of British craft beers at the Great British Beer SpecTapular this Saturday (25 October).
On offer will be 20 different beers from breweries including Beavertown, Burning Sky, Buxton, Magic Rock, Moor Beer, Oakham, Thornbridge, Tiny Rebel, Weird Beard, St Austell and BrewDog.
British themed entertainment and food will be available and entry is a gold coin with 100 per cent of all door proceeds donated to charity.
The Local Taphouse has run more than 30 seasonal 'SpecTAPular' beer festivals which have become highlights of the Taphouse's busy calendar and must-attend craft beer events. To date, more than $60,000 has been raised and donated to various charities.
Each SpecTAPular features a different theme and showcases unique, and sometimes rare, craft beers. The largest, the Great Australasian Beer SpecTAPular (GABS), now attracts more than 12,000 people and is held at Melbourne's Royal Exhibition Building and, for the first time next May, also at the Australian Technology Park in Sydney.
Date & Time: Saturday 25 October – midday until 1am
Location: The Local Taphouse – 122 Flinders Street, Darlinghurst 2010
The Local Taphouse – 184 Carlisle Street, East St Kilda 3183